Diversity & Inclusion
Our Approach
At Tesco, inclusion means that Everyone's Welcome. Everyone is treated fairly and with respect; by valuing individuality and uniqueness we create a sense of belonging.
Diversity and inclusion has always been at the heart of Tesco. It is embedded in our values: we treat people how they want to be treated. We always want our colleagues to feel they can be themselves at work and we are committed to helping them be at their best.
Across the Tesco group we are building an inclusive workplace, a place to actively celebrate the cultures, personalities and preferences of our colleagues – who in turn help to build the success of our business and reflect the diversity of the communities we serve.
Tesco's Diversity and inclusion strategy
Our commitment is the driving force to achieving our goals and delivering our diversity and inclusion strategy. Our strategy is underpinned by five colleague networks, that support in creating a diverse and inclusive culture where everyone is welcome. The colleague networks are; Armed Forces; Black, Asian, Minority Ethnic; Disability; LGBTQ+ and Women at Tesco.
We have identified three core pillars as the foundations to our strategy, each linked to a set of key priorities:
1. Lead and role model inclusion
Building an inclusive workplace with a sense of belonging, led by inclusive leaders who value diverse talent in their teams informed by data rich insights
We have defined what inclusive leadership means at Tesco, and this is measured as part of our leaders' performance. To support progress, we have developed a series of masterclasses for all Tesco directors. Focused on bias, race equality and privilege, and supported by self-led resources, these sessions help to further build inclusive behaviours across our business.
Our mentoring programme for Executive Committee members provides inspiration, skill and insight to drive meaningful change which in turn will help to develop the pool of social and ethnic talent within Tesco. In 2021, this programme will be extended to our business leaders.
We launched our #This is Me campaign asking colleagues to confidentially share their diversity data. Collecting this information helps us to understand the diversity of our workforce and how to make more informed, inclusive decisions.
To support our young talent within the business, we have introduced Diverse Talent Communities. Sponsored by our Executive team, the aim is to accelerate the career journey of young people from ethnic minority communities and explore opportunities to support colleagues in other under-represented groups.
Our commitments to improving gender balance is vital to our business. We have made a number of external commitments including achieving the 33% Hampton Alexander target at Board and Executive level by 2023.
More information can be found within our Gender Pay Gap report available here.
2. Embed inclusion in everything we do
Consciously enhancing an inclusive workplace across all colleague touchpoints, supported by fully inclusive people policies
Our aim is to ensure all colleagues always feel welcome:
Resourcing - Gathering colleague insight was made even more important as we adapted to the impact of COVID-19. We focused on increasing diversity for senior positions, working with our partner to demand a balanced proportion of diversity in recruitment shortlists.
Onboarding – We aim to ensure all new starters understand the definition of inclusion at Tesco.
Policies – Our family policies being maternity, paternity and adoption now have a minimum standard across the Group, ensuring a consistent colleague experience.
Workplace adjustments - In the UK we have redesigned and relaunched our approach to workplace adjustments.
3. Listen, learn, act
Listening and taking action to elevate diverse voices. Providing education for our colleagues and support to communities
Our Listen, Learn and Act strategy pillar helps us to recognise, celebrate and value our differences.
We create listening opportunities to hear from our colleagues and share their views on diversity and inclusion topics. Our leader-led listening sessions gather insight and allow us to elevate diverse voices.
Our learning is focused on taking action to raise awareness of important inclusion topics. All colleagues have inclusion learning and specific modules have been created for line managers, as well as our people, resourcing and leadership teams.
We are taking action within communities to help young people from social and economic diverse backgrounds. Offering quality intern places, apprenticeship and graduate programmes.
Key Highlights:
We are committed to improving gender balance across our business and this year we are proud to be recognised for all the work taking place by featuring in the prestigious Times Top 50 Employer for Women 2021 produced with Business in the Community.

In partnership with Arrival Education, we introduced a new Executive Mentoring programme connecting members of the Executive Committee with a participant from a socially and ethnically diverse background. This helped raise their understanding of the barriers faced by diverse talent and highlight tangible actions we can take to drive diversity.

We launched our Business Diversity Internship to ensure we bring diverse young talent into our business that we can nurture and grow. This year, over 45% of young people joining one of Graduate or Apprenticeship programmes will be from an ethnic minority background; 45% are female and over 17% are joining us with a disability.

We installed our 100th Changing Places facility within Tesco stores nationwide on 3rd December 2020 as part of our International Day of Persons with Disabilities celebrations.

In 2020 we donated almost a quarter of a million pounds to LGBTQ+ charities to raise awareness about campaigns and related issues as well as mark Pride for colleagues and customers.

We have been re-awarded Gold status as part of the Armed Forces Covenant's Employer Recognition Scheme – acknowledging our commitment to making Tesco a great place to work for current and former personnel, and their families.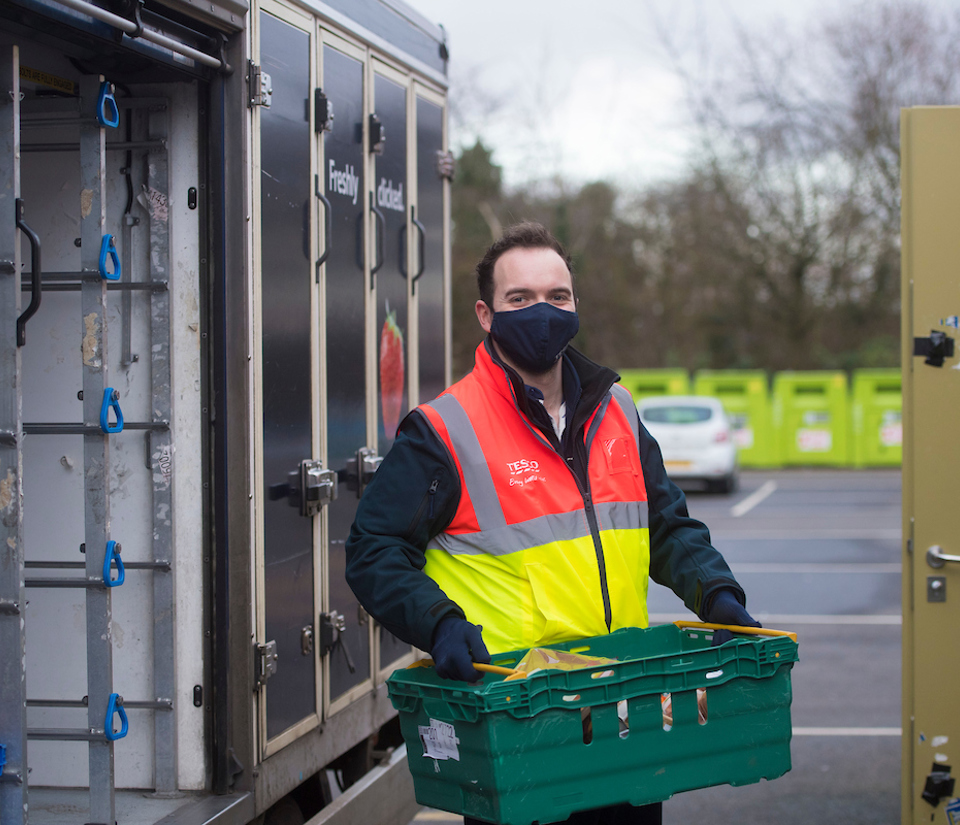 New ideas and concepts shared by colleagues through our colleague networks can help to shape and grow Tesco as an inclusive employer, ensuring everyone is welcome.
By working collaboratively across our business new ideas can be implemented, making small changes which can make a big difference to how our colleagues and customers feel welcomed at Tesco.
During 2020, one colleague suggested to the LGBTQ+ Network that pronouns were made part of the Tesco uniform to. Taking this idea forward and working with our Colleague Experience Team allowed the network to change our Tesco name badges to include a variety of pronouns available to all colleagues.
For people from the LGBTQ+ community the use of the correct pronoun can make them feel welcomed by all. By listening to our colleagues and utilising their ideas the colleague networks have helped to ensure the correct change has been implemented.