Climate Change
In 2009, Tesco became the first business globally to set the ambition to become zero carbon by 2050. Since then, we have set bold science-based targets aligned with the Paris Climate Agreement goals and accelerated our UK plans to achieve net zero by 2035.
As a business, we impact the climate in both our own operations and supply chain. We have completed a cradle-to-Tesco carbon footprint analysis for our UK operations to understand where the main sources of emissions come from and to help us develop reduction strategies.
To reach our net zero by 2050 goal we have set ourselves a 2025 target of 60% absolute carbon reduction from our operations compared to our 2015 baseline. To deliver this target, our climate strategy aims to improve and transform our own operations and work collaboratively with our partners and the wider industry to decarbonise our supply chain.
In 2020/21 we surpassed our 2020 milestone target, with a 54% reduction in our Scope 1 and 2 greenhouse gas emissions across the Group compared to our 2015 baseline and a 10% reduction on 2019/20. Our 2020/21 Group Scope 1 and 2 emissions totalled 1,066,762 tCO2e.  
Our carbon footprint can be found here.
We measure and report our carbon emissions following the Greenhouse Gas Protocol. More information about how we calculate our carbon footprint, including reporting standards, definitions of Scope 1, 2 and 3 emissions, current emission factors and our renewable electricity calculations can be found here.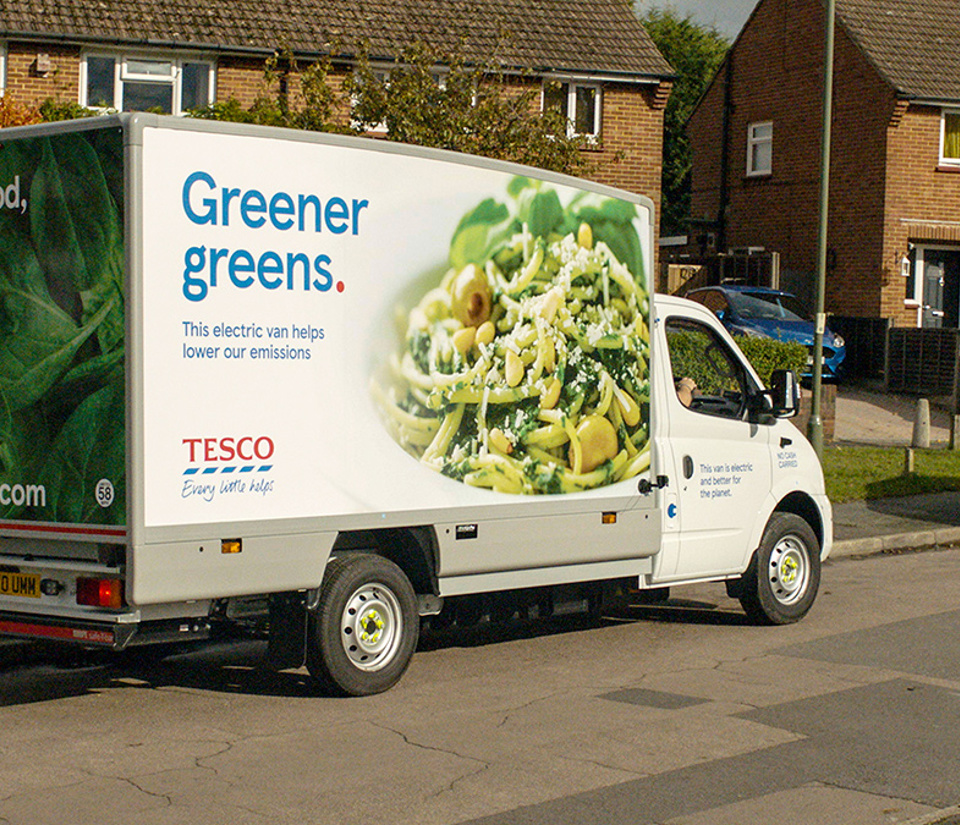 Scope 1 emissions
Our Group Scope 1 emissions from heating, transport and refrigeration account for around 1 million tCO2e. We are taking action to transform our processes and operations towards a low carbon future, including installing aerofoil refrigeration technology and rolling out electric home-delivery vans in support of EV100.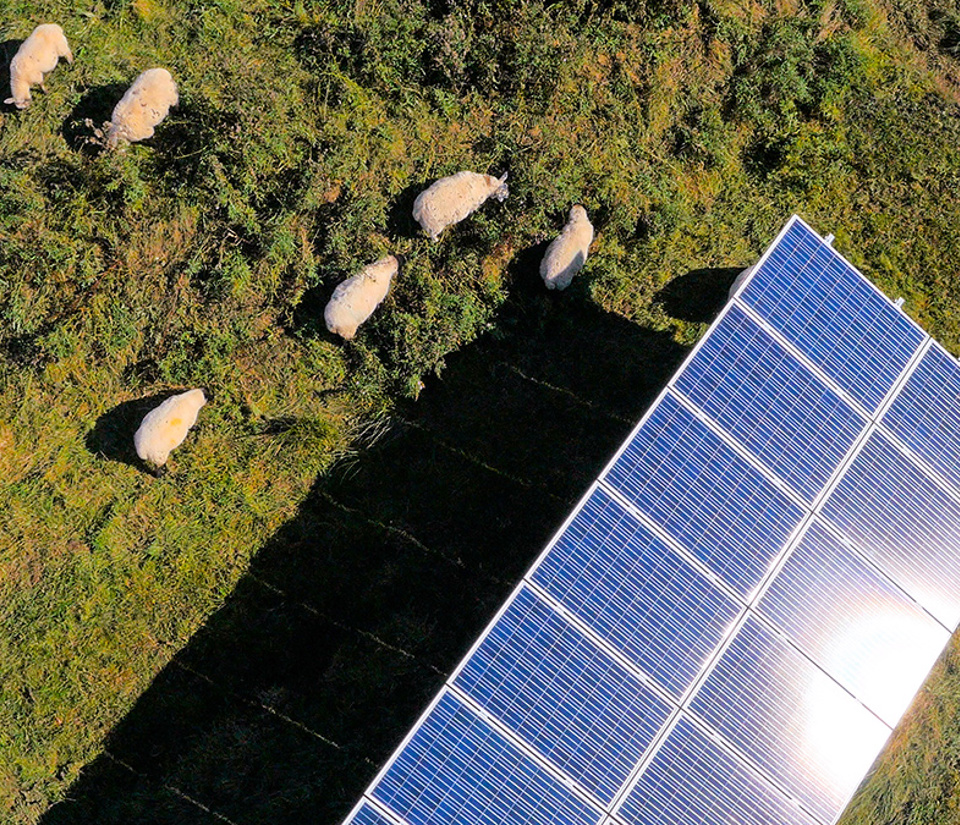 Scope 2 emissions
100% of the electricity purchased across the Group is renewable and we are generating additional renewable energy with onsite solar panels and wind turbines. We have also signed the largest unsubsidised Power Purchase Agreement (PPA) portfolio in the UK, helping to transform the UK National Grid.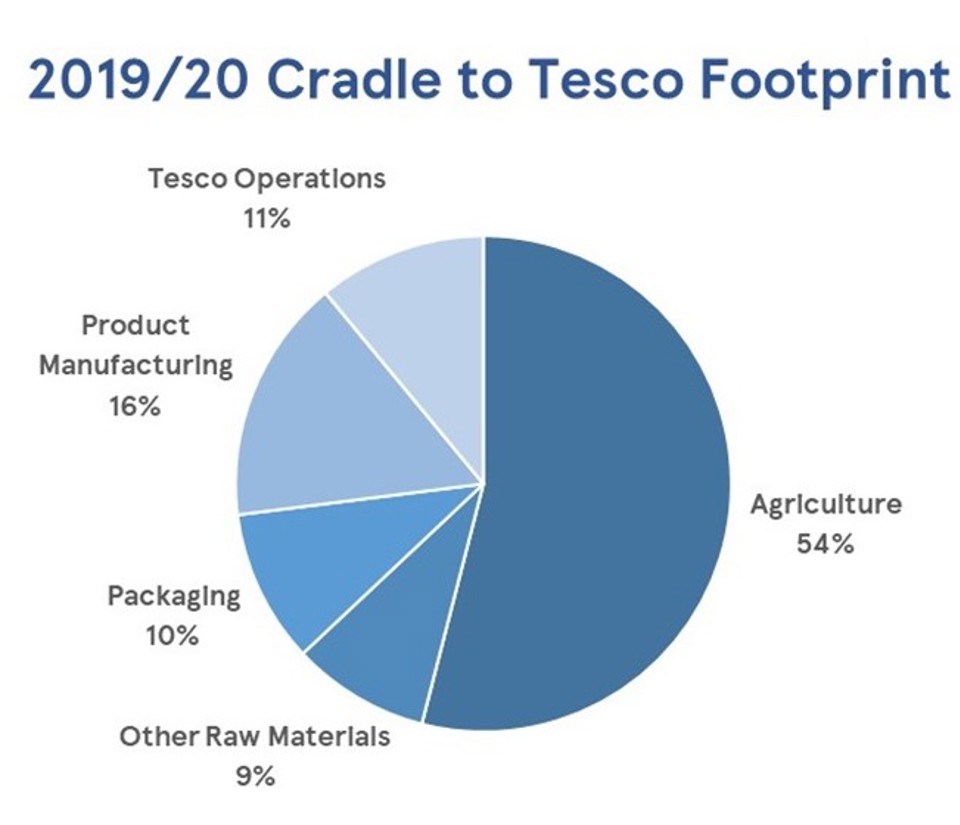 Scope 3 emissions
A large proportion of our overall footprint, our Scope 3 emissions, lies in our supply chain. The graph shows the estimated breakdown of our emissions from field to Tesco for our UK operations (excluding emissions associated with land use change). We are currently reviewing the breadth and ambition of our Scope 3 targets to ensure we maximise our potential to influence change across our supply chain.
Addressing climate change requires cross-industry action and supportive public policy. We engage with our peers as well as policy makers through our membership of various cross-industry forums, including the Aldersgate Group, The Prince of Wales's Corporate Leaders Group and RE100. Through these and other groups, we share our climate change approach and learnings. This pre-competitive engagement offer us the opportunity to learn and inspire others to raise our collective ambitions in the transition to a low-carbon economy.
Climate and finance
In 2017, we also became signatories of the Taskforce on Climate-related Financial Disclosure (TCFD). We are committed to assessing, mitigating and disclosing climate-related risks. Further information on this can be found in our Tesco PLC Annual Report and Financial Statements 2021. 
Keep up to date with the Little Helps Plan
If you would like to hear more about our progress on the Little Helps Plan please sign up to receive updates
Thank you for subscribing to our email services
If you receive confirmation via email, your details have been added to our database. If you have not received anything after a couple of hours, please check your email address and subscribe again.
If you wish to unsubscribe at any time, visit the Unsubscribe page, or click the "Unsubscribe" link on any of the emails you receive.