F&F Protecting the environment
At F&F, we believe in offering our customers great quality affordable fashion as well as reducing our environmental impact. Our customers trust that we source and produce all of our products in a responsible and ethical way. Through our own actions and collaboration with suppliers all over the world, we are taking positive steps to reduce the impact of chemicals on the environment, use water and energy efficiently, and help customers to recycles textiles.
Eliminating harmful chemicals
One of the biggest positive impacts we can have is by eliminating harmful chemicals used in the production of clothes. According to Greenpeace, the textile industry is the second largest polluter of clean water globally, and responsible for 20 percent of all freshwater pollution. They point to over 3500 chemical substances used to produce textiles and estimate that 10 percent of these are hazardous to human health or the environment.
Our approach
| | |
| --- | --- |
| 1. | Transitioning from a focus on outputs (i.e. limiting pollution) to a focus on inputs (e.g. better chemical management and the use of safer alternatives). |
| 2. | Using our strong relationships with suppliers to improve performance and transparency. |
| 3. | Working with industry and sector initiatives to drive best practice. |
Restricting Substances
We established our first Restricted Substances List (RSL) in 2008, outlining permitted levels for key chemicals. This list has helped us improve the chemical impact of finished garments, and protect workers and consumers by removing chemicals of concern. In line with the industry-wide Zero Discharge of Hazardous Chemicals (ZDHC) initiative, our approach now also focuses on the chemicals used in manufacturing stages, known as the Manufacturing Restricted Substances List (MRSL). When combined, these lists form our Restricted Substances in Textiles, Leather & Footwear List (RSiT) which is at the heart of our current approach.
Supply chain capacity building
Our suppliers hold the key to reducing the environmental impact of chemicals, so it is critical that we fully support them. We continue to work with our suppliers to gain transparency upstream and commit to have visibility where we source our products and materials. We regularly visit our fabric mills and wet processing facilities around the world to support them to improve their standards and adapt best practices. Through training, workshops and online resources on our supplier network platform, we are able to strengthen our relationships, build their capacity and reach out to our supply chain more efficiently and effectively to address specific challenges.
Industry collaboration
The scale and complexity of the issue means that this is not something we can achieve on our own, so we are working collaboratively with stakeholders in the industry to have a significant impact across our supply chain and to address systemic challenges. F&F is a signatory of the Zero Discharge of Hazardous Chemicals (ZDHC) Foundation and supports the mission to advance towards zero discharge of hazardous chemicals in the textile, leather and footwear value chain to improve the environment and people's well-being.
In June 2017 we also announced our commitment to the Greenpeace DETOX campaign. In addition to specific timelines for phasing out certain chemical groups, our individual DETOX action plan includes increased transparency about which suppliers we use and their performance in phasing out the use of hazardous chemicals.
We recognise that it is the responsibility of business from all stages of the lifecycle of a microfibre to lead the agenda on finding solutions. That's why we are members of the Industry Acting on Microfibers, a cross-industry group committed to finding evidence-based solutions to plastic microfiber pollution.
Further details about our DETOX commitment
List of which chemicals we restrict in our supply chain
Our latest chemical management progress report
The Sustainable Clothing Action Plan 2020 Commitment
We are part of the Sustainable Clothing Action Plan (SCAP), a collaborative initiative led by WRAP which aims to revolutionise the clothing industry, using collective action to minimise the environmental impact of our clothes. Along with over 30 other UK retailers we have committed to the following targets by 2020;
Highlights
15%
Carbon footprint reduction
15%
Water footprint reduction
3.5%
Waste reduction across the whole product life-cycle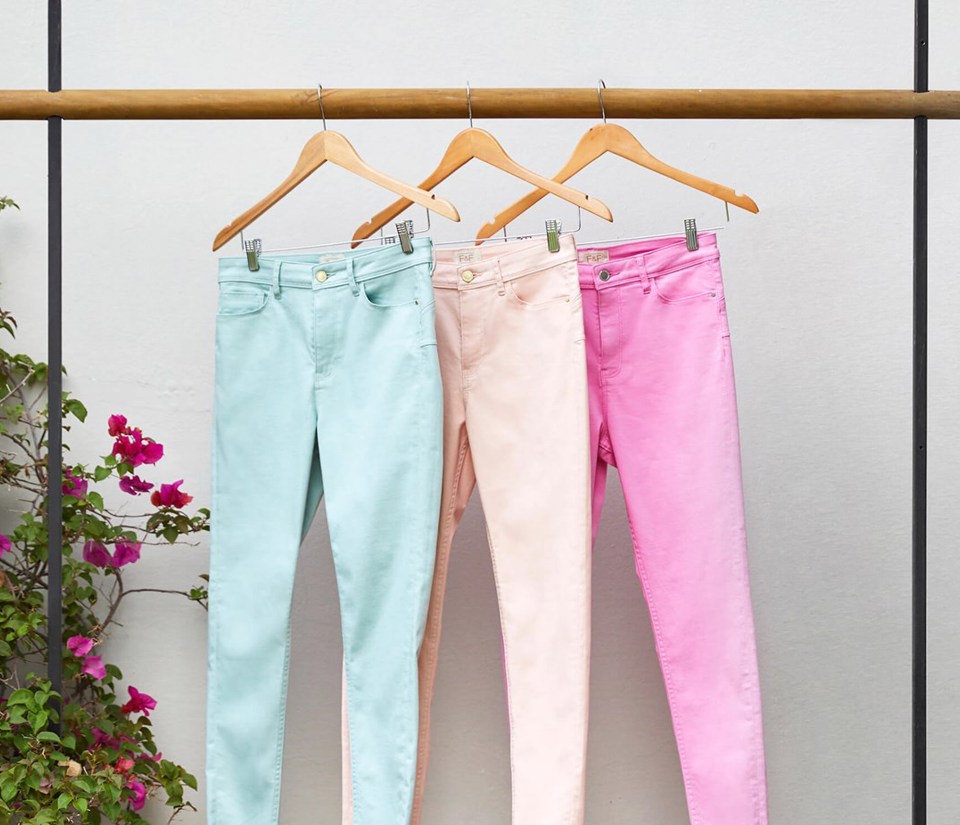 Textiles 2030
We are founding members of Textiles 2030, WRAP's new ground-breaking, expert-led initiative, harnessing the knowledge and expertise of UK leaders in sustainability to accelerate the whole fashion and textiles industry's move towards circularity and system change in the UK.
The new voluntary agreement builds on the learning and success of the  Sustainable Clothing Action Plan ) (SCAP 2020) and aims to engage the majority of UK fashion and textiles organisations in collaborative climate action.
The targets for 2030 are;
To reduce the aggregate greenhouse gas footprint of new products by 50%, sufficient to limit global warming to 1.5°C in line with the Paris Agreement on climate change and achieving Net Zero by 2050 at the latest*

To reduce the aggregate water footprint of new products sold by 30%*
A third target will be added in 2022 to reduce the amount of virgin textile materials used.
*The targets refer to the total quantity of products placed on the market each year in the UK by business signatories to Textiles 2030. The baseline year is 2019. The targets are an absolute reduction or equivalent in line with recommendations for Science Based Targets.
Sustainable Apparel Coalition and the Higg Index
In 2020 we became members of the Sustainable Apparel Coalition (SAC), which is a global multi-stakeholder non-profit organisation, that is committed to creating a more sustainable, equitable, and just world for all. Their aim is to transform business for exponential impact through ground-breaking tools, collaborative partnerships, and trusted leadership for industry sustainability.
The SAC created the Higg Index, a suite of five tools that together assess the social and environmental performance of the value chain and the environmental impacts of products.
Across topics such as water use, carbon emissions, and labour conditions, brands, retailers, manufacturers, governments, NGOs, and consumers can use the Higg Index to inform their individual sustainability strategies and drive collective industry transformation.
Policy on sandblasting
Sandblasting is used on denim and other fabrics to create a fashionable worn or used look. The process involves firing sand, powder or other small particles at high speed on to the fabric and creates high levels of dust in the atmosphere. Since 2010 we have banned sandblasting both in the production of our garments and at sites where our garments are made.
Saving water and energy
Textile washing, dyeing, and finishing use large amounts of water and energy, which we are committed to reducing. We signed up to the Partnership for Cleaner Textiles Programme in Bangladesh; a multi-stakeholder group with the shared goal to establish world class water, energy and chemical management practices that will benefit everyone. Since starting this programme in 2013, eleven of our mills have implemented recommended changes and as a result each year they have collectively saved 2.1 million cubic meters of water and 154,851 MWh of energy. We continue to support the second phase of this program in 2018 aiming to include more factories and further improve their performance.
Recycling
Our customers care about the environment, which is why we make it easier for them to use our stores and car parks for recycling. Each year, customers recycle around 12,500 tons of textiles and footwear on our sites.  Our aim is to reduce the amount of clothing that gets sent to UK landfill and we are working with the Salvation Army to make it even easier for our customers to dispose of their unwanted clothing by introducing more conveniently located textile bins on our sites over the coming months and years.
We now have the F&F clothing and textile take back in almost 500 stores. Customers are able to donate clothing, shoes and home textiles that are from any brand and of any quality in our conveniently located collection units at the front of store.
We are working in partnership with SOEX UK, who collect the donations and sort them into three categories;
Rewear – any items that can be worn again will be given a new life in a worldwide second hand market.
Reuse – Any items not suitable to wear again are converted into other products, such as cleaning cloths or mops.
Recycle – any textiles that cannot be reused will be recycled into secondary raw materials and used to manufacture new textile fibres or insulation materials in the car industry.
This means nothing is wasted or sent to landfill.
Click here to find your nearest store.
SOEX UK also pay per tonne collected and this is donated directly to the Tesco National Charity Partners - British Heart Foundation, Cancer Research UK and Diabetes UK in equal proportions.
If you are interested in finding out more about how you could reduce your environmental impact at home while saving money, please look at the Love Your Clothes website.
We now have hanger reuse boxes in almost 500 stores. We recycle our clothes hangers in the UK (by using them again or having them converted into other products). In doing so we have prevented 10,911 metric tonnes of plastic going to landfill.