Booker Food Waste Data 2020/21
At Booker, we have no time for waste. An estimated 6.4 million tonnes of edible food are wasted in the UK each year, across UK households, hospitality, food service and manufacture, and retail sectors.
Since 2011, we have been tackling the issue in our own operations and our goal is that no food fit for human consumption will be wasted. We are the only UK wholesaler to publish food waste data and are committed to driving progress towards UN Sustainable Development Goal (SDG) Target 12.3 to halve global food waste by 2030.
The impact of the pandemic on food waste at Booke was significant with hospitality customers closing overnight as lock down rules were imposed. This meant Booker and our supply chain had large volumes of catering fresh food going out of date.
Booker collaborated with our customers, charity and community partners to ensure we did everything possible to distribute the surplus food to those in need.
Despite these challenges highlights from 2020/21 include:
As a group Booker delivered a 9% reduction in food waste as a % of food handled compared to the baseline year 2016/17
Best Food Logistics joined Booker in March 2020 so data is only captured for last year and base year and also used for the base year. As a business serving the hospitality industry waste volumes were impacted significantly by the pandemic and are expected to be back on track this year. Excluding Best Food, Booker achieved:

40% reduction in food waste as a % of food handled compared to the baseline year 2016/17.
12% reduction in food waste as a % of food handled, and a 19% absolute reduction since the previous year
165% increase in the amount of surplus food redistributed to charity and community groups, since the previous year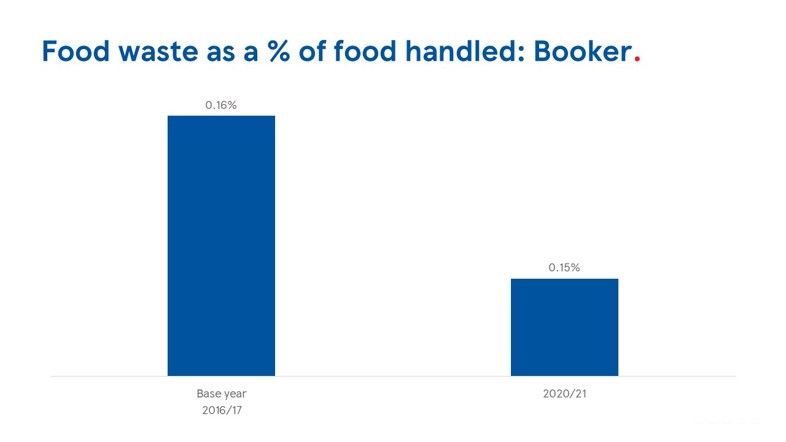 In 2020/21, in total we handled 2,148,272 tonnes of food through our UK operations. This generated 5,789 tonnes (0.27%) of food not sold to customers. Excluding Best Food those figures are 1,754,552 tonnes of food handled, which generated 3,775 (0.22%) tonnes of food not sold to customers. As a wholesaler, we know perfectly matching supply and demand is almost impossible, there will always be some unsold food at the end of each day. Our priority is to reduce this through continually optimising our forecasting and ordering and reduce to clear processes.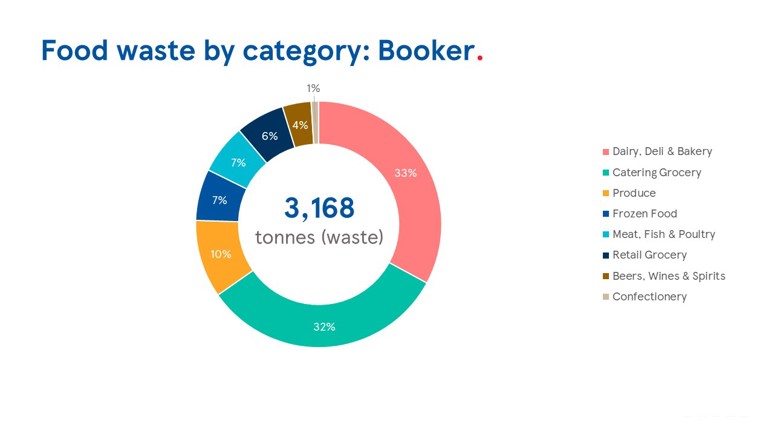 In total, 2,621 tonnes of this surplus food were redistributed to charities and community groups, preventing it from becoming waste. Excluding Best Food Logistics that is an increase of 165% from 735 tonnes last year and over four times the baseline year 2016/17.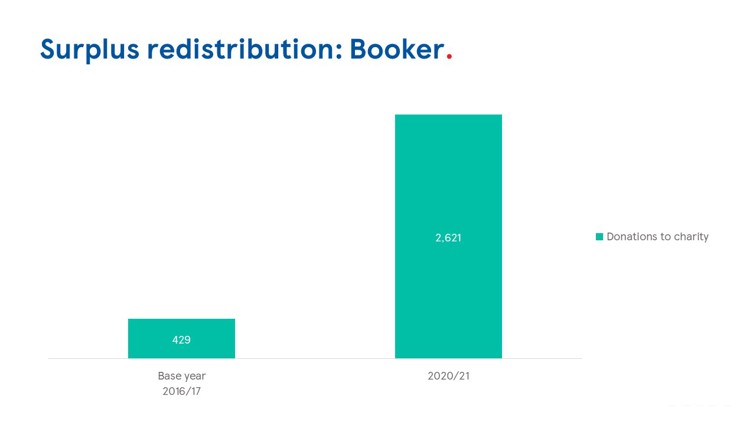 During this year we have also started working with Olio, our new community partner that allows us to donate food where a charity partner is not linked to the Booker site to ensure more food is saved.
Over the course of the coming year we will continue to focus on reducing our total waste figure and deliver Sustainable Development Goal Target 12.3.