Central European Food Waste Data 2020/21
At Tesco, we have no time for waste. We are the first retailer in Central Europe to publish food waste data for our own operations, and are proud to have already achieved the UN Sustainable Development Goal (SDG) target to halve food waste by 2030.
Highlights from 2020/21 include:
A 65% reduction in food waste as a % of food handled compared to our baseline year 2016/17, which means we continue to exceed our SDG 12.3 target to halve food waste by 2030 (target was delivered in 2019/20).
Our total food waste has reduced by 8% in the last year, from 13,038 tonnes in 2019/20 to 11,957 tonnes in 2020/21. This is 69% reduction compared to our baseline year of 2016/17.
Through our partnership with national food banks, who help to redistribute surplus food, we donated 7,187 tonnes of surplus food to local charities from our stores and distribution centres. This is equivalent to over 17 million meals.
We have successfully redistributed 87% of food safe for human consumption to charities or animal feed in CE retail operation.
Over 2020/21 we started rolling out the FoodCloud app Czech and Slovakia to help stores and charity partners reduce complexity and grow safe for human donation.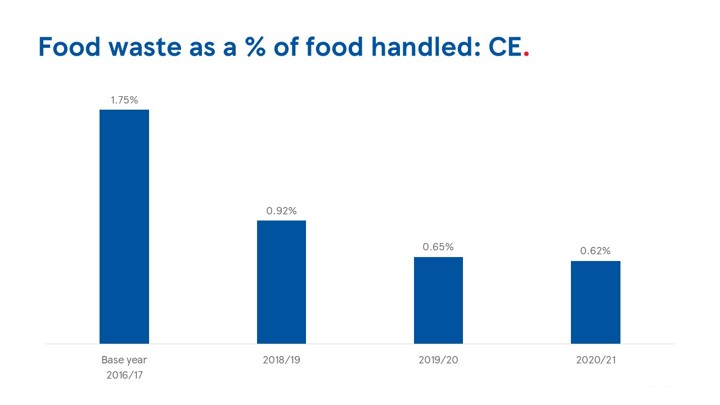 The power of publishing a detailed breakdown of our waste is that we can identify hotspots and act. This has enabled us to work in partnership with others to reduce food waste and increase food surplus redistribution in a targeted way. We think it is incredibly important for every retailer to be clear about waste within their own operations so we can find ways of reducing waste together over the long-term.
In 2020/21, 1,927,705 tonnes of food handled in Central Europe generated 29,136 tonnes of food not sold to customers (1.51%), a 34% decrease compared to our baseline year 2016/17.
17,179 tonnes of surplus were redistributed through donations to food banks and local charities or animal feed, an increase of 231% since the baseline year 2016/17.
Our year-on-year waste reduction was driven by focusing on ordering and forecasting of key fresh food lines within our supply chain, continuing to review our ranges to make sure we offered relevant products in relevant stores to our customers, and our tight in-store management of key routines, especially the reduce-to-clear process. We continued our food surplus redistribution programme regardless of COVID challenges, helping to ensure that food that was not sold in stores was offered to those in need and not wasted.
Over the course of the coming year we will continue to focus on reducing our total waste figure, however food waste is too big an issue for any one company to tackle alone. We are calling on every other food company to commit to halving global food waste by 2030 and publish their food waste data.
Find out how we calculate our food waste here.