UK Food Waste Data 2020/21
At Tesco, we have no time for waste. An estimated 6.4 million tonnes of edible food are wasted in the UK each year, across UK households, hospitality, food service and manufacture, and retail sectors. Vast amounts of labour, water and carbon go into producing our food. That's a huge environmental impact for food that's never eaten.
In 2013, we made a commitment to lead on reducing food waste globally – working in partnership with our producers and suppliers, helping customers reduce waste in their homes and tackling the issue in our own operations. We were the first UK retailer to publish food waste data and are committed to driving progress towards UN Sustainable Development Goal (SDG) Target 12.3 to halve global food waste by 2030.
Highlights from 2020/21 include:
A 29% reduction in food waste as a % of food handled compared to our baseline year 2016/17, which means we are more than halfway to meeting our goal of halving food waste by 50% by 2030
20% reduction in food waste as a % of food handled, and a 14% absolute reduction since the previous year
82% ◇ towards our Target that no food safe for human consumption will go to waste
33% increase in the amount of surplus food redistributed to charity, community groups, colleagues, animal feed and pet food since the previous year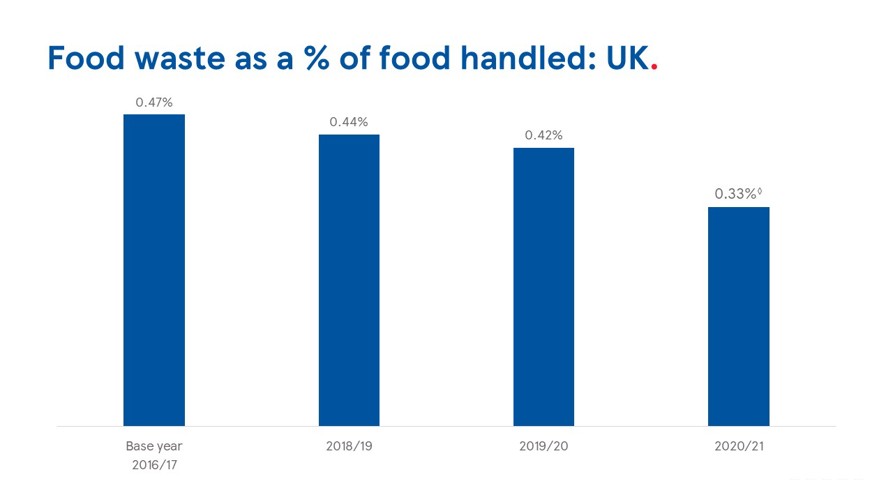 In 2020/21, we handled 10,554,352 tonnes of food to customers through our UK operations. This generated 84,124 tonnes (0.80%) of food not sold to customers. As a retailer, we know perfectly matching supply and demand is almost impossible, there will always be some unsold food at the end of each day. Our priority is to reduce this through continually optimising our forecasting and ordering and reduce to clear processes.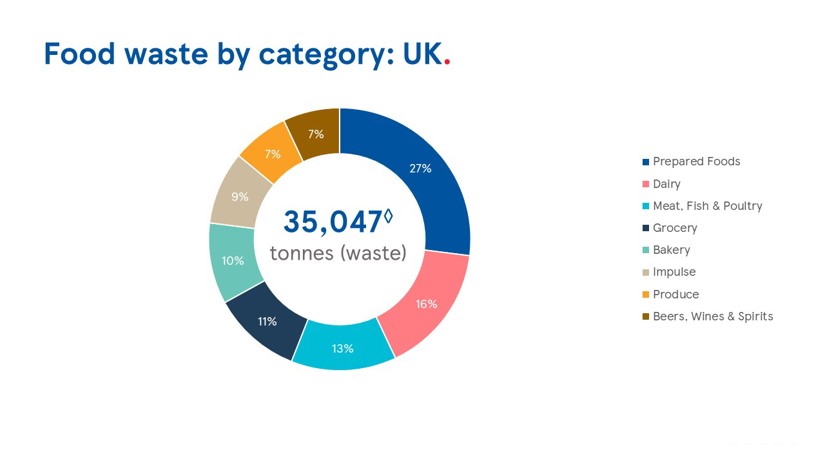 In total, 49,078 tonnes of this surplus food were redistributed to charities, community groups, colleagues, animal feed and as pet food preventing it from becoming waste. An increase of 33% from 36,843 tonnes last year and doubled since the baseline year 2016/17.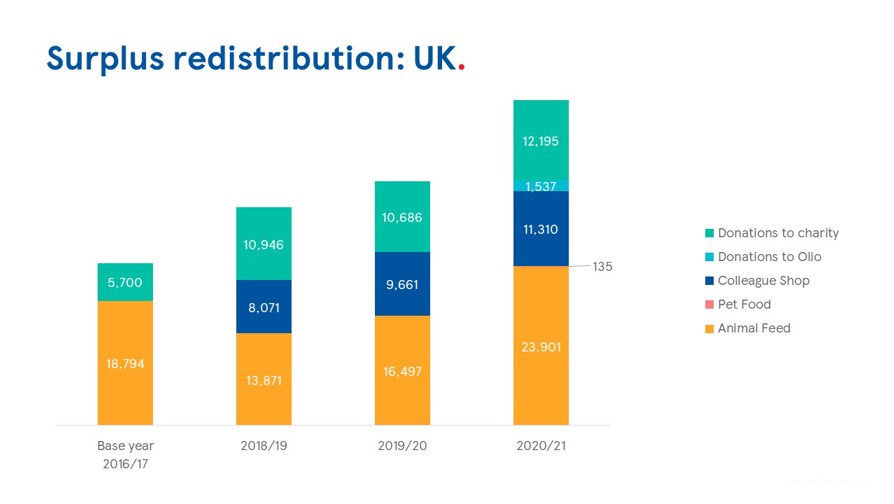 As part of this, the food we have provided to Colleagues, for free, has increased by 17% and our donations to charity have increased by 14% since 2019/20. We have also sent 1,537 tonnes of food to Olio, our new partner that allows us to give food from stores that don't have a charity partner, to the community.
In January 2021, we launched a new scheme whereby surplus food that has not been donated or given to colleagues is made into pet food. So far, we have saved 135 tonnes of food from becoming waste. We have increased the food turned into animal feed by 45%. We have done this by introducing a more efficient process and expanding the scope of food that can be used. This now includes bakery, produce, grocery and dairy.
Our target is that no food that is safe for human consumption will be wasted in our UK retail operations. Over the course of this year, we have reached 82%◇ towards our target as we have embedded new processes to ensure our progress is sustainable.
Over the course of the coming year we will continue to focus on reducing our total waste figure and deliver Sustainable Development Goal Target 12.3. However, food waste is too big an issue for any one company to tackle alone. We're calling on every other food company to commit to halving global food waste by 2030 and publish their food waste data.
◇ KPMG LLP was engaged to provide independent limited assurance over the selected food waste data highlighted in this report with a ◇ using the assurance standard ISAE (UK) 3000. KPMG has issued an unqualified opinion over the selected data which can be found here - KPMG's full assurance statement.