Healthy diets
Seven out of ten families say they think supermarkets should do more to help people make healthier choices and we're committed to helping our customers have a more balanced diet. One that follow's the government's EatWell Guide's dietary recommendations like eating five fruit and veg per day, cutting back on sugar, saturated fat and salt, and eating more fibre.
Our healthy, sustainable diets strategy is based on three core pillars of activity:
Making our products healthier and more sustainable without compromising taste
Removing barriers to help our customers make healthier choices
Encouraging customers to make changes to their lifestyle and try healthier alternatives
Reformulation
We believe healthy and nutritious food can still taste great. Our reformulation programme means that customers can enjoy their favourite products knowing they are now better for them. Through reformulation, we've made thousands of the products our customers enjoy a little healthier. We're continuously working to reduce the calories, fat, sugar and salt and increase fruit, veg and fibre content of our products without compromising on taste or quality.
Tesco were the first retailer to reduce sugar in own brand drinks to below the Soft Drinks Industry Levy, but we have been working on sugar reduction for many years. We have supported the PHE sugar reduction programme, focusing on categories that contribute the most sugar to children's diets, including reducing the sugar content of cereals. Since 2018, we have removed more than 50 billion calories from products, focusing on some of the categories which contribute the most calories to families' shopping baskets, such as ready meals, biscuits, pies and cakes. We aim to remove a further 50 billion by 2024.
In the UK most people do not eat enough fibre. The average daily intake is 17.4g /day for women and 20.7g/day for men, well short of the recommended intake of 30g per day. We've been working to increase fibre content in products where it occurs naturally. For example, we've added wheat fibre into our garlic bread and added wholemeal wheat flour to the pastry in our pies and slices.
We know that achieving 1 of 5 a day portions of fruit and vegetables is also difficult for many of us. That's why we've increased the vegetable content of our own brand chilled and frozen ready meals. 50% of ready meals now contain at least one of our 5 a day, compared to 26% in 2018. We aim to increase this to 66% by 2025.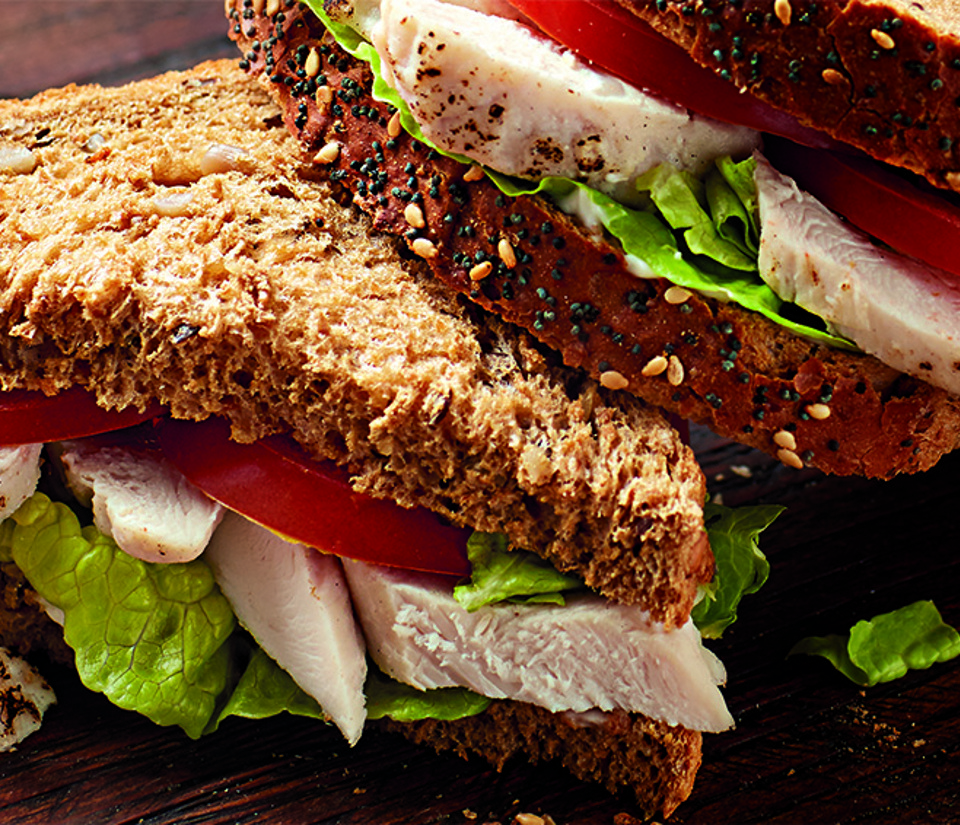 Reformulation
Through our reformulation strategy we've removed 22 billion calories since 2018 from our front of store sandwich range by reducing the fat content and removing added sugar from mayonnaise.
Helping customers by removing barriers to healthier choices
Our customers say they are concerned their diets will not be nutritionally adequate if they change how they eat. They also struggle with having the inspiration and confidence to create tasty meals, and they worry about affordability. We are committed to removing barriers and making the healthy option easy and enjoyable through helpful actions and advice.
In 2017 we launched 'Helpful Little Swaps', aimed at encouraging customers to try healthier alternatives to family favourites at the same price. In 2019, we launched 'Fresh 5' – fantastic offers on 5 lines of fresh fruit and veg which change every 2 weeks, making it affordable for our customers to eat more fruit and veg. We also offer Free Fruit for Kids in our stores, as a little help for kids to eat more healthily. Over 100 million pieces of fruit have been given to children since 2016. Free Fruit for Kids is currently paused due to COVID-19. In the UK, all of our store colleagues also have access to free fruit during their working day.
Alongside making healthy options affordable, tasty and visible in store and online, we're also committed to helping customers understand which products are healthier with clear labelling. We've a long history of leading the way with clear nutritional labelling on our food. Labels on the back of packs have displayed nutritional information since 1985. In 2005, we were the first UK retailer to put nutrition information on the front of packs, based on Guideline Daily Amounts and in 2014 we updated our labels to adopt multiple traffic light labelling. In 2019 we launched our 'Healthy Choice' logo which can be found on the front of our own label products to help customers identify healthy Tesco products. Products with the Healthy Choice logo have to meet a strict nutrition criteria and have the health benefit communicated on the label.
Since 2017 we have partnered with Spoon Guru to help customers with specific diets and preferences quickly and easily find food suitable when shopping online. Online dietary and lifestyle filters provide more information and highlight healthier choices to customers as well as enabling customers with special dietary needs to quickly filter products by requirements, such as no gluten and no lactose, high in fibre, vegan, or low salt.
Inspiring customers to make bigger changes to their lifestyle
We want to inspire our customers to live a healthier lifestyle and give them the confidence to create healthy, tasty meals. Since 2015, we have held health events across the UK aimed at helping customers find affordable and easy ways to make their shopping basket healthier. We have also worked with our health ambassador, Jamie Oliver, to create exciting recipes that help customers cook great value, healthier meals from scratch.
Keep up to date with the Little Helps Plan
If you would like to hear more about our progress on the Little Helps Plan please sign up to receive updates
Thank you for subscribing to our email services
If you receive confirmation via email, your details have been added to our database. If you have not received anything after a couple of hours, please check your email address and subscribe again.
If you wish to unsubscribe at any time, visit the Unsubscribe page, or click the "Unsubscribe" link on any of the emails you receive.