Bananas
Bananas are one of our bestselling products and it is important for our customers that they are sustainably sourced.
Growing bananas provides an essential source of income for thousands of rural households in developing countries. The majority of our bananas sold in the UK and Ireland come from Costa Rica, Ecuador, Guatemala, Dominican Republic and Colombia.
However, banana production is also associated with some social challenges. In many parts of the world, having a job does not guarantee a decent living and we know that some workers in banana supply chains do not receive a wage to support all their basic needs. We have also highlighted our banana supply chain as priority area in our gender empowerment strategy; where we believe we can have a positive impact on addressing gender violations and inequality. In Latin America, where many of our bananas are sourced from, we are proactively working with suppliers to improve grievance mechanisms, worker representation and freedom of association so that workers can raise their concerns with employers without fear of reprisal.
Certification and Labour Conditions Audits
At Tesco, all our conventional bananas sold in UK and Ireland are from Rainforest Alliance certified farms and all our organic bananas are from Fairtrade certified farms. Certification ensures that farms meet comprehensive ethical and environment requirements including:
Biodiversity conservation
Improved livelihoods and human well-being
Natural resource conservation
Effective planning and farm management systems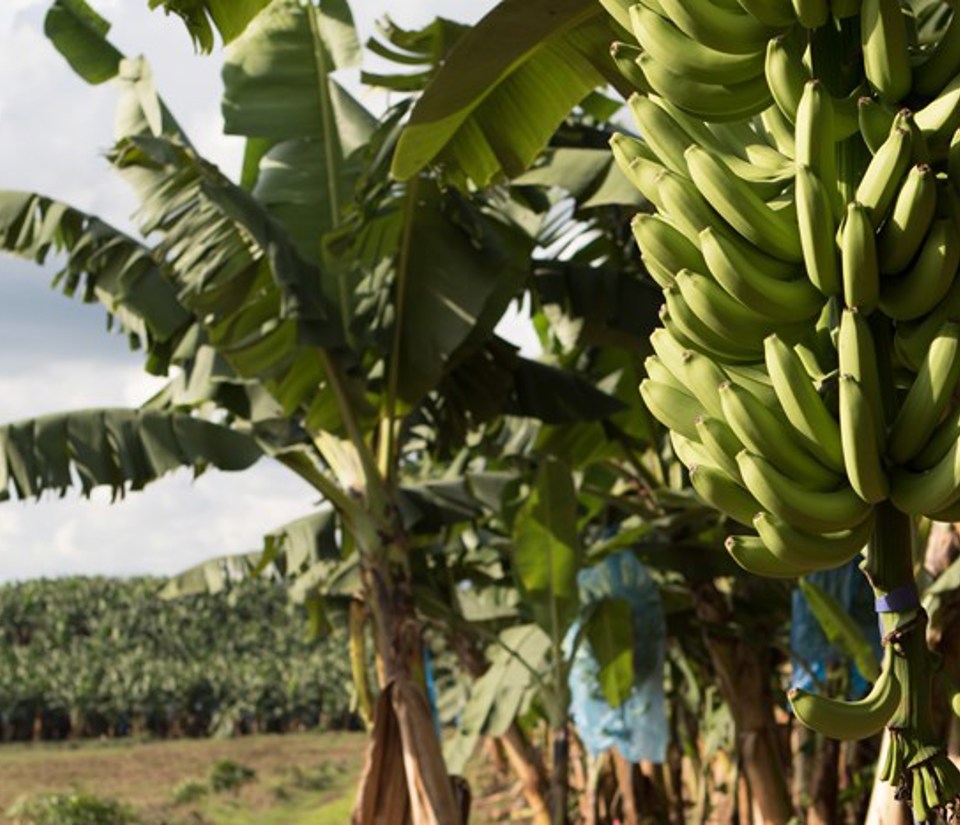 100%
of bananas sold in UK and Ireland are sourced as sustainable and are certified
As well as being certified, our banana suppliers must also undergo SMETA audits. These detailed assessments of working conditions complement the Rainforest Alliance certification to ensure a more thorough assessment of labour conditions. Examples of improvements as a result of SMETA audits include workers receiving paid holidays, written contracts and payslips, better control of working hours and overtime pay, and improved health and safety conditions.
However, some challenges within supply chains cannot be addressed through certification and audits alone. Where challenges are complex, embedded and industry wide, we need to collaborate with producers, traders, governments, trade unions, other workers organisations and NGOs to find solutions and implement these at scale.
Decent incomes for workers
At Tesco we want workers around the world to be paid enough to provide a decent life for themselves and their families. We need to ensure wages are fair and cover the costs of all essential needs at a minimum. Many of our suppliers do not only supply Tesco and that is why we need to work in collaboration with other retailers, buyers and wider industry. Tesco is a founding member of the World Banana Forum, a multi-stakeholder organisation headquartered at the UN's Food and Agriculture Organisation. The Forum aims to bring all relevant parties together to promote a sustainable banana trade of which living wage is an important aspect.
As a critical first step, we have supported the World Banana Forum, Rainforest Alliance, Fairtrade and the Global Living Wage Coalition to develop living wage benchmarks in Costa Rica, Ghana, Belize, Ecuador and Colombia. The benchmarks have been developed in close collaboration with all stakeholders in order to reflect social and economic realities of each region. In 2020 we will also be supporting living wage benchmarks to be developed in Ivory Coast and Cameroon. A review and update to the Dominican Republic benchmark will also be completed in 2020.
Where benchmarks have been finalised, we are working with our suppliers to understand the gaps between current worker wages and the living wage benchmark. We are also supporting the Sustainable Trade Initiative (IDH) to pilot the Salary Matrix tool which will help suppliers to calculate and analyse the incomes gaps at the farm level.
To review our sustainable livelihoods strategy and living wage work in full, please view our strategy here.
Worker representation
Part of our work to improve worker representation involves promoting dialogue between trade unions, suppliers, industry organizations, certification & audit companies as well as some governments in Latin America. In 2020, we have been particularly reinforcing the importance of worker committees where there is low trade union affiliation amongst workers; ensuring that worker representatives are democratically elected and that there are women representatives.
One of the key elements of our gender strategy is increased participation of men and women in workplace dialogue. Women play a crucial role in food supply chains yet face several social and economic barriers that prevents them from realising their full potential. We have supported Colsiba (Coordinating body of Latin American Banana and Agro-Industrial Unions) to increase women's participation as worker representative and specifically in national trade unions and collective bargaining forums in Latin America through labour rights education. Greater inclusion of women in worker representation will enable challenges that women face at work to be more frequently highlighted with employers and discussed with workers, leading to improvements being made.
Keep up to date with the Little Helps Plan
If you would like to hear more about our progress on the Little Helps Plan please sign up to receive updates
Thank you for subscribing to our email services
If you receive confirmation via email, your details have been added to our database. If you have not received anything after a couple of hours, please check your email address and subscribe again.
If you wish to unsubscribe at any time, visit the Unsubscribe page, or click the "Unsubscribe" link on any of the emails you receive.