Worker and Community Empowerment - Tea
Worker and Community Empowerment
Tea was the first product sold by Jack Cohen and is therefore an important part of Tesco's heritage. It's also a very popular product for our customers in the UK. However, tea supply chains globally face a number of challenges. Low wages, gender discrimination and poor living conditions are issues commonly faced by tea workers and smallholders. This is why, for a number of years, we have been working actively and collaboratively to address these complex issues. As a starting point, all our UK Own Brand black, green and Rooibos tea is 100% Rainforest Alliance certified. In addition, Tesco is an active member of the Ethical Tea Partnership, a not-for-profit membership organisation that has been working with tea producers and tea companies to improve the sustainability of the tea industry since 1997. We also work in partnership with industry and NGOs in key regions, such as Assam in India, Malawi and Kenya, to help address the root causes of the many challenges these tea producing countries face.
We continue in our efforts to reduce the number of tea producers and estates that we buy from creating long term, trusted partnerships with our most strategic producers. In collaboration with our suppliers and NGOs we are working with our strategic tea estates to better understand how we can drive improvements for workers and the communities they live in.
Promoting gender equality in Assam
Tesco has been working in India for many years and from 2015 – 2021 our collaboration with the Ethical Tea Partnership and UNICEF has focused on addressing gender inequality in the Assam region of India, where girls and young women can be at risk of violence, abuse and exploitation.
The Improving Lives programme has improved services for mothers and new-born babies, developed sanitation facilities, encouraged greater commitment to education, improved nutrition and developed child protection committees. 
To date the programme is directly and indirectly improving the lives of an estimated 250,000 women, girls and boys living in Assam. The project also engaged national, state and district governments to encourage them to review their approach to child protection and policies for those living in tea communities.
In June 2018, we signed the Women, Children and Families in Assam commitment alongside producers and other retailers. This commitment has seen training for management, workers, village elders and healthcare professionals to support women both at work and at home. Grievance reporting has also been introduced with confidential and free local language telephone numbers available for women to seek support whenever needed.
In 2021 we joined The Women's Safety Accelerator Fund, a bold new programme to address women's safety and gender-based violence in the Indian tea sector. The project has been set up by IDH - the Sustainable Trade Initiative which Tesco will be co-funding to provide resources, tools, technical assistance, and specialised services for tea producers and workers in the tea sector in Assam.
The fund will focus on three key areas of work:
Implement the Global women safety framework to ensure that all women and girls are socially, economically and politically empowered in rural spaces and are free from sexual harassment and other forms of violence
Build capacity of local implementation partners to strengthen access to services for victims of sexual harassment and other forms of violence
Establish a public – private platform to advocate for sustainable change
The fund will focus on reaching 200,000 women in Assam with the ambition to scale and replicate this beyond the tea sector.
We collectively support setting up women welfare and gender committees on Indian tea estates, to ensure gender issues are raised and acted upon, and that women are appropriately represented. Training has been delivered to discuss unequal gender norms with the aim of ensuring no sexual harassment and discrimination is taking place.
Women in leadership is another important focus area. As part of this work, development opportunities are reviewed to support women to apply for senior positions. Additionally, breastfeeding breaks and free crèches to support women in work have been set up, giving them the peace of mind of knowing their children are taken care of during the day.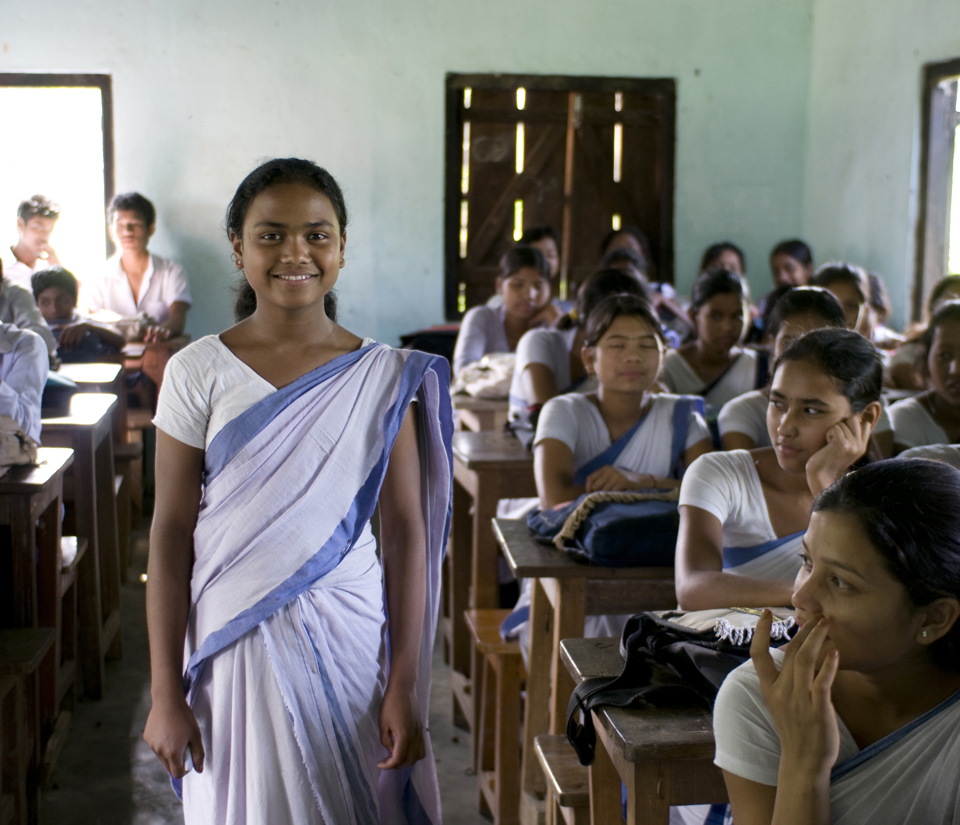 Adolescent girls supported in partnership with ETP and UNICEF
Supporting the Malawi tea industry
In addition to our work in Assam, we were active members of the Malawi Tea 2020 coalition. A dedicated programme that united 30 committed industry buyers and producers to improve wages for tea workers in Malawi. Over the five year programme, the living wage gap was closed by over 33%, we supported two collective bargaining agreements ensuring increased wages for workers, over $14 million was invested by producers to drive improvements for workers and the first Gender Equality, Sexual Harassment, and Discrimination policy in the Malawi tea industry was implemented.
Though Malawi 2020 has now finished Tesco continues to support the Malawi Tea industry. We have maintained the volumes of tea sourced from Malawi and increased our purchases of higher value premium teas. Since 2020 we have funded a 'seeds for kitchen gardens' initiative in Malawi supplying vegetable seeds, fruit trees, herbs and firewood saplings to increase households self-sufficiency and provide an additional source of income when selling surplus produce. We have provided training around best practice on growing techniques, cooking methods to provide maximum nutritional benefit and how to reduce reliance on wood for fuel. 
We continue to donate 5p from every pack of Tesco Extra Strong tea bought in the UK to run community projects in our strategic tea estate from which we buy the majority of our Malawian tea. The main beneficiaries are Village Savings and Loan Associations. These groups support smallholders and communities to increase their incomes through simple savings and loan facilities for those that do not have easy access to financial services. Loans are typically used to invest more in the tea farm, pay for education fees, as well as to develop other business activities which generate new income. Training under the programme is delivered by a local expert team, and entirely funded through donations.