Latest updates
£10 million raised for National Charity Partnership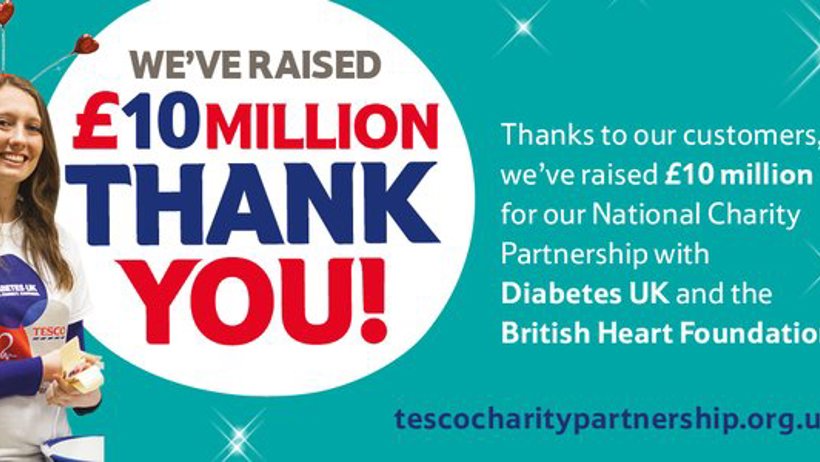 17 May 2016
The Tesco National Charity Partnership with the British Heart Foundation and Diabetes UK aims to tackle and help prevent heart disease and diabetes - it's delivered thanks to the voluntary efforts of 300,000 UK colleagues, combined with the kind generosity of our customers.
From a superheroes themed weekend in our stores, to distribution colleagues competing in 'Distribution Centres' Got Talent', and head offices getting their dancing shoes on in 'Tesco Does Strictly', our colleagues in every part of the UK are doing their bit to raise money
All these fundraising activities and many more have meant that we have now made it to the £10 million milestone!
Improving health is one of the biggest social challenges society faces and we have a responsibility to the communities where we operate to make it easier for them to be healthier. One of the key ways we do this is through our National Charity Partnership. Money raised by colleagues and customers will help millions of people to eat better and get active, as well as fund the vital and ongoing work of the British Heart Foundation and Diabetes UK.
Part of the £10 million raised is funding a prevention campaign – Let's Do This. The campaign is specifically designed to inspire women aged 20-45 to boost their health and well-being. Alongside the campaign there is an online tool which contains healthy recipes, fitness tips and enables users to track the progress of their health-related goals.
Reaching this brilliant £10 million mark gives an opportunity to say a big thank you to colleagues and customers for supporting all the various events and activities - your support is making a big difference!
For more information on the work we are doing to help improve health, click here.