Latest updates
June 2016: Mega Month of Fundraising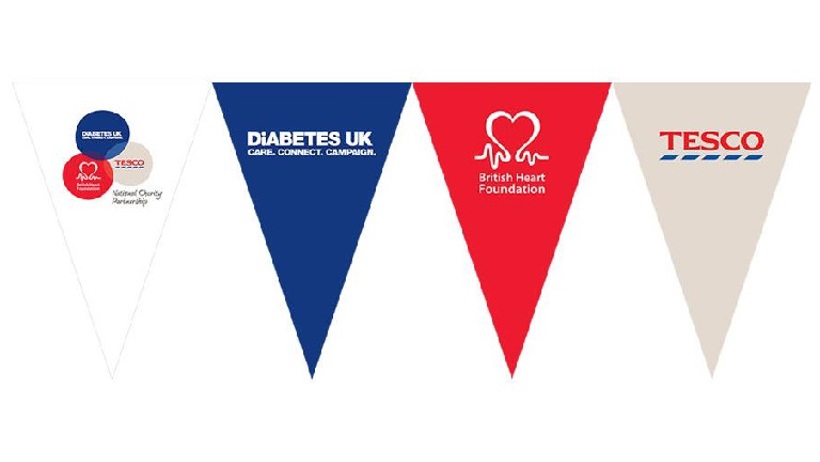 25 Jul 2016
Since passing the £10 million mark in our fundraising for the Tesco National Charity Partnership with the Diabetes UK and British Heart Foundation back in May, Tesco colleagues and customers have continued to show their commitment to raising even more to help tackle and prevent heart disease and diabetes throughout June and July.
It all 'kicked off' with a sports themed national collection during the first weekend of June. Colleagues in our stores organised football tournaments and challenges to raise funds ahead of the football this summer.
Later in the month, CEO Dave Lewis headed up a group of over 200 Tesco colleagues taking part in the London to Brighton Bike Race for the British Heart Foundation. Tesco donated £200 to the British Heart Foundation for every Tesco colleague taking part – raising over £44,000!
Another £32,000 was raised through the sale of a Father's day charity single by Britain's Got Talent finalists The Neales.
And the total rises even higher when we include all the individual fundraising from colleagues around the country. For example, throughout June colleagues came together to give a teddy bear a tour of our stores and encourage customers and colleagues to take part in a range of challenges such as best selfie and most innovative form of travel. Ted went on tractors, aeroplanes and even a fire engine to complete the tour. 'Ted On Tour' raised over £123,000 by visiting 243 stores! Read the blog here. 
All these activities demonstrate that, with so many customers and colleagues supporting the fundraising, every little help and donation adds up and really can make a big difference. Money raised will help millions of people to eat better and get active, for example through the National Charity Partnership's Let's Do This campaign, and fund the vital and ongoing work of the British Heart Foundation and Diabetes UK.
Our next in-store fundraiser will take place 12th - 14th August and we're asking colleagues to bring to life some of Rio's famous carnival sparkle.
Thank you to everyone – customers, colleagues and wider communities – who have contributed to making these activities and future events such a success.