Energy Efficient Stores
Tesco has a long-term ambition to become a zero carbon retailer by 2050 and we have a number of initiatives across the group to make our stores more energy efficient and reduce our impact on the environment.
Zero Carbon Stores
We now have six zero-carbon stores across the Group – four in the UK and one in Thailand and the Czech Republic. These special stores use a mix of environmentally-friendly design, materials and technologies. The stores are vital in helping us to meet our 2050 ambition because they allow us to trial different technologies and materials before selecting the most successful ones for wider use in our stores.
The stores are all operating at a zero-carbon level, and some are generating excess energy. For example in 2015/16, the four zero-carbon stores in the UK generated around 5% more renewable energy than they required. We exported this excess electricity to the national grid where it reduced the need to produce electricity from fossil fuels, saving over 150,000kgCO2e.
Key features of our zero carbon stores
Design: The stores have a timber frame and are timber clad using wood from sustainable sources. For every cubic meter of steel we replace with timber, we save almost a tonne of carbon because timber is less energy intensive to produce. We also ensured all energy-consuming equipment going into the store, no matter how big or small, was as efficient as possible.
Heating and cooling: The heating and cooling system in our UK Ramsey zero-carbon store uses 66% less energy than a typical store of a similar size opening in the same year (2009). Some of the initiatives that contribute to this include:

Natural ventilation – we use blue shaded tubes, known as wind catchers, on the roof of the store that let air flow in and out. They are designed to help us reduce the need for air-conditioning by allowing fresh air from outside to flow in and out when the outside temperature is in the right range. This reduces the need for extra heating or cooling.
Lobby on the front of store – this helps to save energy by preventing heated air escaping outside the store.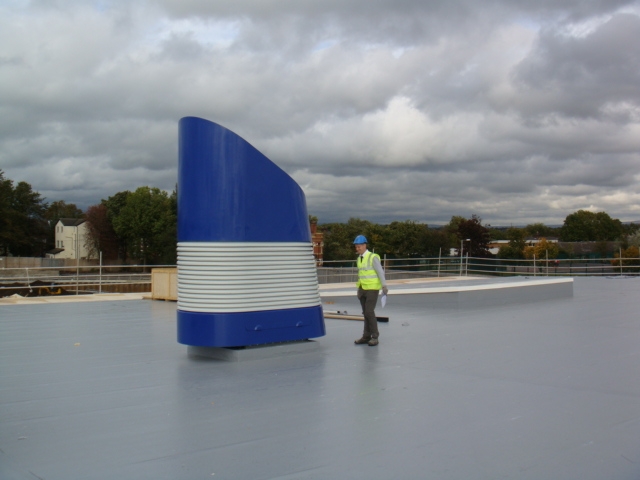 An engineer examines one of our wind catcher located in Cheetham
Lighting: We use a range of different lighting technologies in our zero carbon stores.

Roof lights – there are large transparent panels in the roof that let natural light into the store. These are filled with a special gel that prevents excessive heat from the sun getting through. These help to enhance the shopping experience as well as saving energy.
Efficient artificial lighting– we use highly efficient artificial lights where needed, such as LEDs.
Sophisticated lighting control systems – These can automatically dim individual lights when the natural daylight increases, can be linked to timers and motion sensors to ensure that lights are not left on when they are not needed.
Sun pipes – these are mirrored tubes that reflect light into the store from light that falls on the roof. We use these in the back of our stores and reduce the need for artificial lighting.

Refrigeration: All the fridges and freezers in our zero carbon stores use natural refrigerants, such as carbon dioxide. These natural alternatives are around 3,920 times less damaging to the climate than the most common hydrofluorocarbon (HFC) refrigerant that is used. We also put doors on our fridges and freezers in store that reduce the energy lost from the equipment, meaning that they use less overall.
Water: Rainwater is collected and used to flush the toilets and in the car wash (if the store has one).
Renewables
Even the most energy-efficient buildings need to use some energy. Our zero carbon stores generate their own renewable energy on-site using sources including photovoltaic (PV) panels and alternative fuel combined heat and power (CHP). Any excess energy produced is sold back to the grid.
The CHP units essentially a mini power station and creates energy to run the store. They are up to 35% more efficient than traditional power plant as they are able to trap heat that would otherwise be lost in the process of making electricity. We use renewable biofuels that meet strict sustainability criteria, to run the plant. Example being the use of used fish oils from the UK and Ireland.
Energy Engagement and Behavior Change
Behavior has a significant impact on energy consumption and therefore behavior change and colleagues' engagement initiatives are needed to help us reach our 2050 target. To help understand what behavior changes can make a difference to our energy consumption we have launched colleagues' engagement programmes in several markets.
In the UK, we have ran an Energy Ambassadors programme in Scotland to help reduce energy usage in our stores. Joining forces with Global Action Plan in 2015, we provided environmental training and employment opportunities to 36 unemployed young people.
Throughout 2015 the ambassadors worked shoulder to shoulder with over 3,000 Tesco colleagues, having over 8,000 conversations across 120 stores in Scotland. The ambassadors gave energy efficiency support and advice and assessed behaviors.  From 70 assessed behaviours, 5 were identified as key behaviours to reduce energy use:
Close chiller night-blinds
Switch off ovens between bakes and cooks (Bakery and Deli)
Switch on/off the hot pie and deli stands at the correct times
Shutdown procedure for non 24hr stores and Night procedure for 24hr stores
Close back door between deliveries
This energy ambassador programme led to an increase in the number of staff who understand how their jobs contributes to energy use and saved 3% of energy across the engaged Express stores. In November 2015, the programme also won Employee Engagement and Behaviour Change initiative of the year at the edie Sustainability Leaders Awards 2015.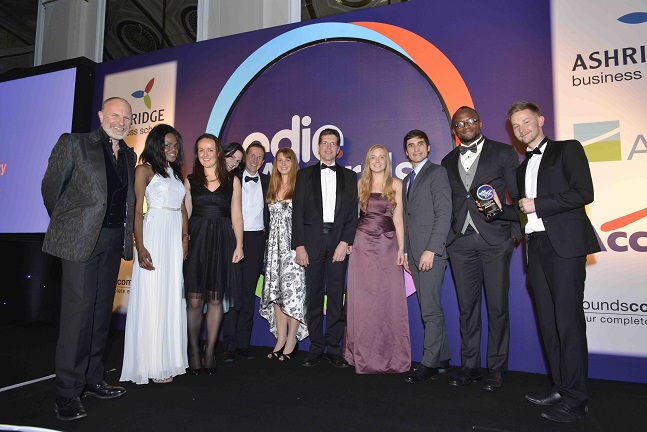 Elsewhere, the Malaysia business in July 2015 launched the 'Energy Hot House' initiative with the Operation Director and all Store and Distribution Directors signing a pledge to support saving energy for the business. With regular communication and by implementing a system to track progress colleagues have changed their behavior but have also identified energy savings opportunities within the stores.