Giving back to the communities we source from, Sri Lanka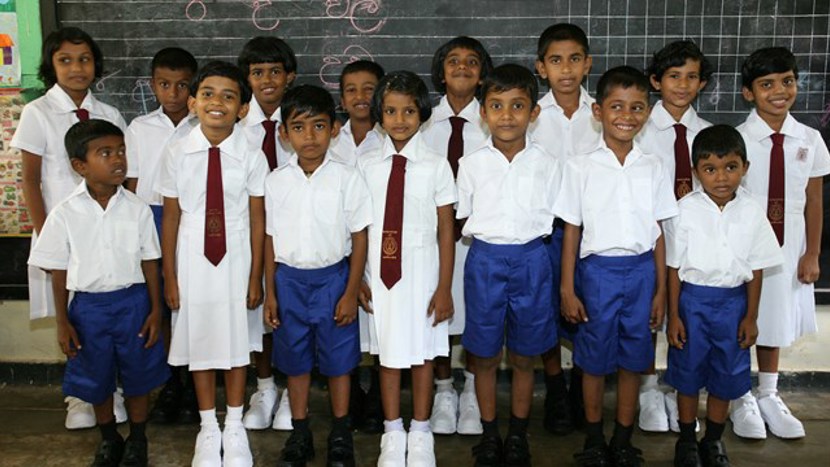 With the help of our customers, F&F has donated more than 250,000 school uniforms to children in Kenya, Sri Lanka and Bangladesh since 2009.
Every year our F&F clothing brand supports the You Buy One, We Give One promotion. This is where a customer buys one product from the Back to School range and F&F donates an entire school uniform to a child in the same area as where those products were made.  
To find out what impact the campaign is having, we met up with Mr C.M Bandara, principal of the Hadigalla Gurulubedda primary school in Sri Lanka. He explained that over 60% of the children attending his school come from lower income families with no permanent employment for their parents. Many struggle to afford school uniforms so the clothes they receive as part of Buy One Give One are vital for their future education. Every year over 20,000 children in Sri Lanka alone benefit from the scheme.
In November 2013 our Back to School team went to Bulathsinhala in Sri Lanka to hand out free school uniforms to some of the children:
"It was an honour to be a part of the ceremony in Sri Lanka where we distributed the free school uniform parcels. From speaking to the teachers you realise just how much this means to the school and that it really determines whether a child can attend lessons or not."
Chloe Jones - Buying Manager for Back to School, F&F
Since it began in 2009, a quarter of a million complete uniforms have been donated and this year we plan to give away another 100,000 items. F&F promotes local industry and workers by donating the school uniforms in the country where they are produced. F&F and the factories make contact with schools in the local community and then present the uniforms to the children once they are made.