Managing the season together: apples and pears, UK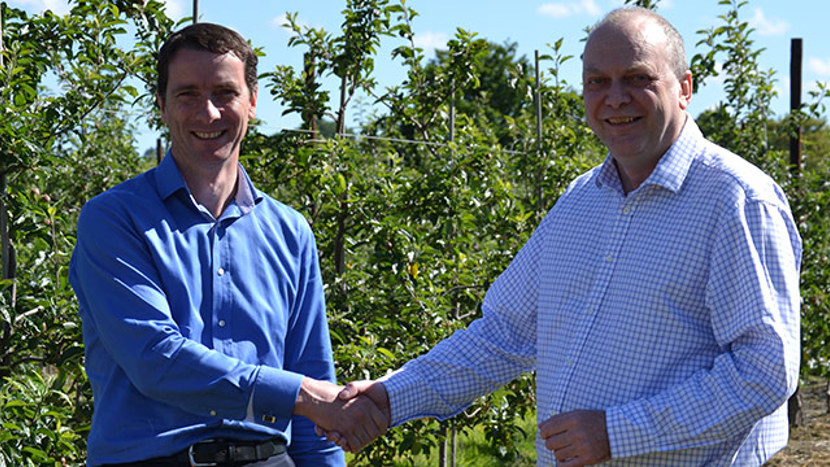 Over the past couple of years we have made some big changes in how we source apples and pears in the UK; building stronger relationships with our growers is at the heart of this strategy.  
For our customers to be able to buy the best quality products at affordable prices, it is essential that we work tirelessly to ensure our supply chain relationships are as simple as possible. In some case this has meant moving away from dealing with middlemen as we instead build a stronger dialogue with our primary food producers. With clearer channels of communication between us and our growers, we can better understand the challenges on the ground.
In July 2013 we then ran roadshows to meet each group of growers and discuss our new strategy for UK apple and pears. This transparency gave growers more confidence to invest in market-leading technology and additional orchards.
One example of this is the new August Pitts Packhouse for Cottage Farms, who consulted us on the design. This innovative facility not only ensures high-quality fruit but also provides comfortable working conditions and minimises its environmental impact. We have significantly improved the way the fruit is sorted and we now filter water to remove pesticides.
"Tesco's approach was one of involvement and participation. The English industry has been very impressed by the quality of the individuals, their unity, their enthusiasm and their determination to achieve excellence."
Adrian Barlow – Chief Executive, English Apples and Pears Ltd
In addition, we are using our industry expertise to help suppliers plan the layout of their orchards. Collaborating at the very first stage of the growing process means our supplier produce high yields of varieties that are most popular with our customers, whilst also ensuring that the fruit is harvested as efficiently as possible. One of our suppliers can now harvest around 90% of their crop in one go, making their operations much simpler to manage.
Together, this means better quality fruit, less waste and better returns for everyone. 
Managing surplus together 
However much planning we do with our suppliers, the quirks of any given season are hard to predict. By opening up clearer channels of communication we are much better positioned to manage the volumes, shapes and sizes of fruit that the orchards produce.  Our new approach has meant we have been able to turn potential problems into opportunities on several occasions.
For example, we responded to supplier concerns about a bumper crop of Cox apples by running a special promotion: 
Customers enjoyed the fruit when it was at its best for a very competitive price and we avoided waste for the suppliers. At the same time we sold an unprecedented amount of fruit and demonstrated to suppliers that we can be flexible if it means doing the right thing for customers and the supply chain.
The success of our approach was confirmed in August 2014, when it was announced that we sold more English apples and pears in 2013/14 than any other retailer.   
Watch this video with one of our pear farmers to see where our pears come from: