Encouraging sustainable feeding practices in the aquaculture industry
8 August 2019
The challenges of delivering healthy, sustainable diets to a growing global population within planetary boundaries are well-documented. To do so will require a number of strategies, including a reduction in greenhouse gas emissions from food production, ensuring there is no further expansion of land used to grow food, and increasing demand for proteins with a lower environmental impact.

One contribution to meeting this protein challenge is through sustainable aquaculture, for example farmed salmon, which provides a nutritious source of protein and omega-3 fats. Whilst aquaculture has great potential as a source of healthy protein, any expansion must be done sustainably to ensure environmental concerns are addressed.

One of the biggest of these challenges is the high volumes of wild fish that are fed to farmed fish to provide essential proteins and oils. This can place significant pressure on marine ecosystems and limits the sustainable growth of the aquaculture industry.

Alternatives to fish oil 

Alternatives to conventional fish oil for aquaculture which can reduce this pressure on marine ecosystems include vegetable oils and greater use of seafood by-products like trimmings. Perhaps the most promising alternative is algal oil, which is extracted from farmed micro-algae with naturally high levels of omega-3 oils, eicosapentaenoic acid (EPA) and docosahexaenoic acid (DHA).

These farmed algae can be grown at an industrial scale on land, so there is no need to harvest more marine algae – or fish – for aquaculture. One tonne of algal oil provides the equivalent amount of omega-3 EPA & DHA as fish oil produced from 60 tonnes of wild-caught fish[1]. So there is great potential for algal oil to partially replace, and possibly one day completely replace, conventional fish oil.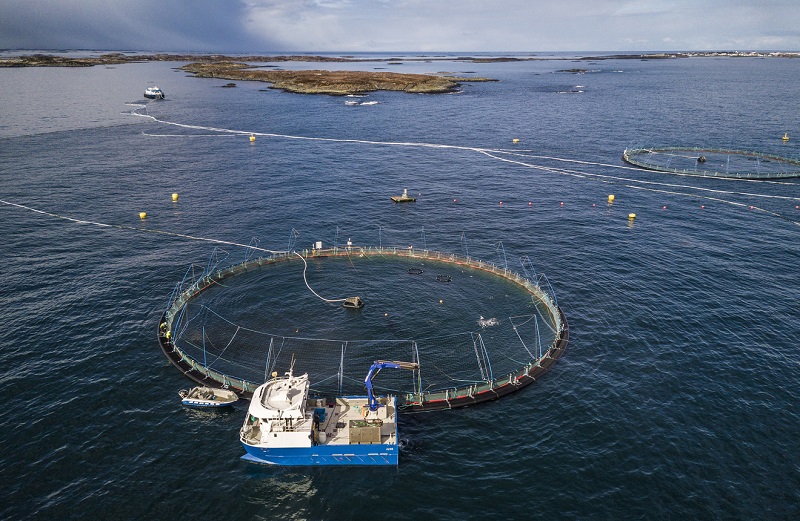 Tesco engaging industry  

As part of our Little Helps Plan commitment to "lead the industry in addressing the key sustainability challenges in our supply chain", we have been exploring how more algal oil can be incorporated into the diet of fish that we sell, starting with salmon, our most popular species of farmed fish.  

We have been working collaboratively with our key salmon suppliers to support them scale up the use of more sustainable feed ingredients, such as omega-3 rich algal oil. Encouragingly, one of our main suppliers in Norway has already started to supply us with some salmon that were partially fed with omega-3 oils from algal oil.

To build on this development, we are in the process of updating our own brand farmed salmon standards with targets to reduce the amount of wild-caught fish that is fed to the salmon we source. While this is a positive step, transitioning the entire aquaculture industry to more sustainable feeds such as algal oil will require the commitment from many businesses and organisations.

The World Wildlife Fund (WWF), the global conservation charity, is supportive of this innovation. Dr. Piers Hart, Seafood and Aquaculture Specialist, WWF-UK said:  
"WWF is very supportive of Tesco in their effort to reduce the use of fish oil in their salmon feed. WWF has been working on alternative raw materials in animal feeds, including fish feeds, for some time and identified the potential of algal oils early on. The production of ingredients for feeds has significant impacts in regard to land use, water use and greenhouse gas emissions, contributing to climate change and biodiversity loss." 
Nigel Edwards, CSR Director at Seachill, one of Tesco's fish suppliers, said: 
"The salmon industry has grown rapidly over the last 30 years, with huge steps forward in feed efficiency and farming technology. But to grow further the industry needs novel sustainable sources of omega-3 oils, which are essential to both fish and human health. Algal oils are a natural solution and we are proud to work with the leading innovative salmon farmers and their partner feed producers to encourage investment in them and increase their use."
Healthy, sustainable products for all
We will continue to work hard with our supply base in addressing the sustainability concerns associated with aquaculture. In this way salmon and other farmed fish can continue to form an important part of an affordable, healthy, sustainable diet in the future. 
[1] Source: Veramaris
Ends
You may also like