How'd you like them apples? How the science of sleep is helping British apple farmers thrive
20 December 2019

Apple author James Rich learns how British growers are using new technology to keep us in perfect pommes all year round.
Apples are a symbol, an icon.
Our love affair with them runs far deeper than the apple-a-day proverb; further than just something to nourish and keep us healthy – although they are packed with vitamins A and C, magnesium and fibre.
They represent fertility in some cultures, wealth and health in others, knowledge, and some of our most celebrated discoveries (hello, gravity). They have permeated culture; history, religion, science and technology to be a familiar and reassuring constant in our everyday lives. Quite simply, the apple is more than just a fruit. In fact, Brits buy more than 34,500 tonnes of apples each year (roughly 2.2m apples a week) at Tesco alone.
And British apples are some of the best. In the UK, we have the ideal climate and weather to grow perfect pommes. Not only do we have the perfect growing conditions, but our apple growers are some of the most advanced in the world; the British apple industry pushes innovation, using the latest technology and equipment to ensure only the tastiest of fruits.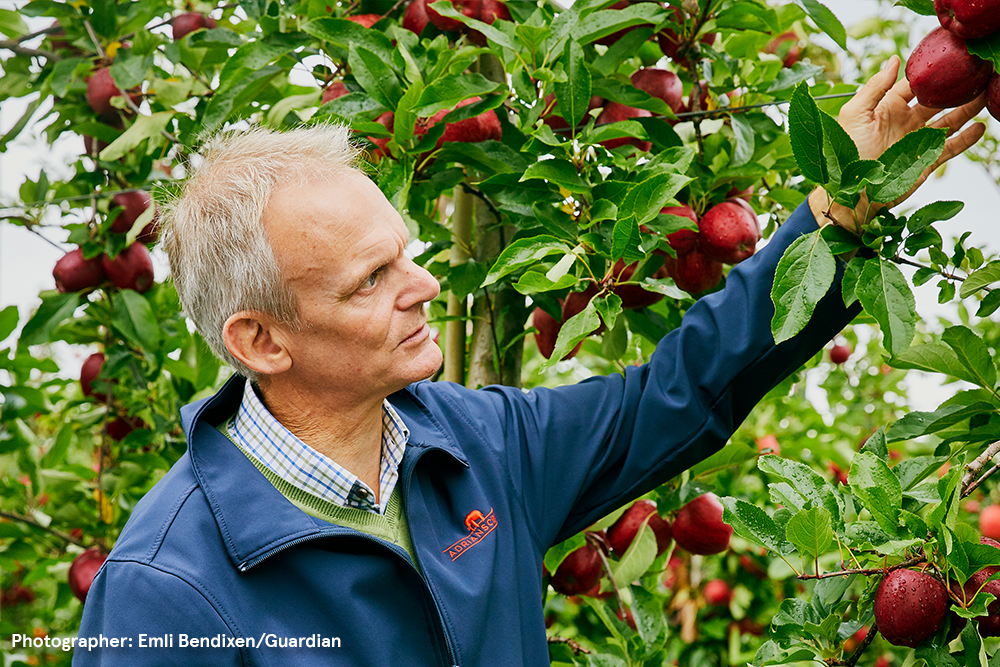 James Simpson: 'The apples are sent into a dormant state – a form of deep sleep'
Growers include the family owned Adrian Scripps in Kent, which has been specialising in growing "top fruit" (meaning apples and pears) in the garden of England since the 1960s – and has supplied Tesco for more than 30 years. Working with Adrian Scripps, Tesco became the first supermarket to sell British apples all year.
Managing director James Simpson explains: "We grow British apples to fill the shelves all year round: gala, discovery, braeburn, kanzi, red prince, jazz …"
But apples are a seasonal fruit; eating apples especially have a growing season approximately eight-weeks long, generally in September and October. Still, we've grown to expect them in our fruit bowls all year round. How do we bridge the gap?
Simpson explains that technological advancements mean that British apples can be kept fresh for as long as eight months from the time of picking – stored from September or October right through to May or even June.
To do this, the fruit is housed in cold stores (think giant fridges) holding hundreds of tonnes of apples. Here, Simpson and his team can control the atmosphere that the apples are kept in, specifically the natural gases.
"The air we breathe is predominantly oxygen, carbon dioxide and nitrogen," he explains. "By lowering the oxygen level in the air, we can slow down the ripening process that the apples would otherwise go through.
"Reducing the oxygen levels, which will ripen the fruit, and increasing nitrogen, which slows down the ripening process, sends the apples in to a dormant state – a form of deep sleep."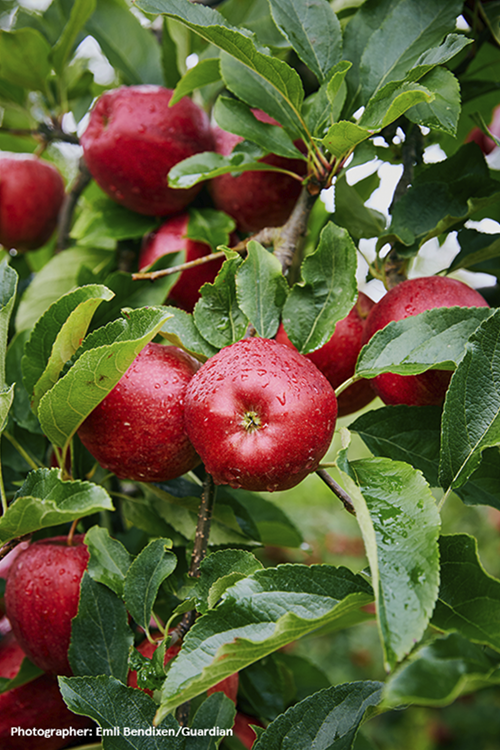 This process, which sounds like something straight out of Snow White, is called dynamic controlled atmosphere – a natural process to safely store the fruit until they are ready to be eaten. Simpson likens it to the maturing of cheeses or wines.
"The number one priority for us is the eating experience for our customers; ensuring we keep the flavour and crisp bite in the apples is the major focus to growers – creating the tastiest, ripest British fruit," Simpson adds.
This also means rotating the varieties on offer. "We work with Tesco to ensure that only the best of the season's apples are on their shelves at any one time," says Simpson. "This will change depending on which apple varieties are at their peak at any given time; moving from the discovery, which is a more delicate apple and has a shorter store life, early in the season, through to the braeburn, which is hardier and can be stored for longer, later in the season."
Ensuring optimum taste isn't only about seasonality; it's also about meeting customers' changing tastes. Tesco sells approximately 50 British apple varieties, introducing new varieties each year, which is where John Worth, Tesco's master of apples (no less) comes in. Together, Worth and Simpson trial and introduce new varieties of apple – taking up to five years to perfect a flavour.
"Right now, customers are looking for great flavour and juiciness, combined with a satisfying crunch as they bite into it," says Worth on the latest apple created with Simpson. "This meant crossing crisp, modern varieties with the flavour of older varieties. Working with James and his team, the result was the red prince variety: its flavour and texture are enhanced as the natural sugars and acids mature in storage, resulting in a wonderful crispness."
Of course, we can still buy apples from all over the world, but with our expectation for local produce continuing to rise and the need to reduce our global food footprint being more vital than ever, homegrown champions such as Adrian Scripps are defining what shoppers want – filling our baskets with a British bounty of the all-important, and not-so-forbidden fruit.
As well as supporting its suppliers in implementing new techniques to enhance freshness, Tesco has an in-house "sensory panel" to help growers across all its fresh food in developing new, flavoursome varieties that taste great and thrive in British climes. To find out more, visit tescoplc.com/sustainability
Ends
You may also like