An eggcellent solution: How a hard-working team helped the nation's farmers and stopped nearly a MILLION eggs going to waste a week 
25 June 2020

In partnership with Mail Metro Media, we've created a series of articles to share the stories of how we've responded to the Covid-19 pandemic through our supplier partnerships, our work to support vulnerable customers, and our community initiatives.
Eggs, bread, toilet paper, milk. The everyday essentials that we all rely on. But the COVID-19 pandemic has changed and challenged so many aspects of daily life. Getting these basic staples in to the country's kitchens and cupboards has been anything but simple. It's taken a lot of hard work by a tireless few. 
While most of us have been asked to stay at home, farmers, pickers, delivery drivers and supermarket workers all along the Tesco supply chain have been working around the clock to rise to the extraordinary challenge of getting people the food they need. Workers all along the Tesco supply chain have been working around the clock to rise to the challenge of getting people the food they need.
The versatility of eggs, along with Britain's lockdown baking efforts, meant Tesco saw a 30 per cent increase in demand. To meet this sudden surge, Tesco reintroduced white eggs, which fell out of favour in the sixties, to stores across the country for the first time in 40 years – a revival that not only kept shelves stocked, but also helped the hundreds of farmers who usually sell their produce to restaurants and cafes.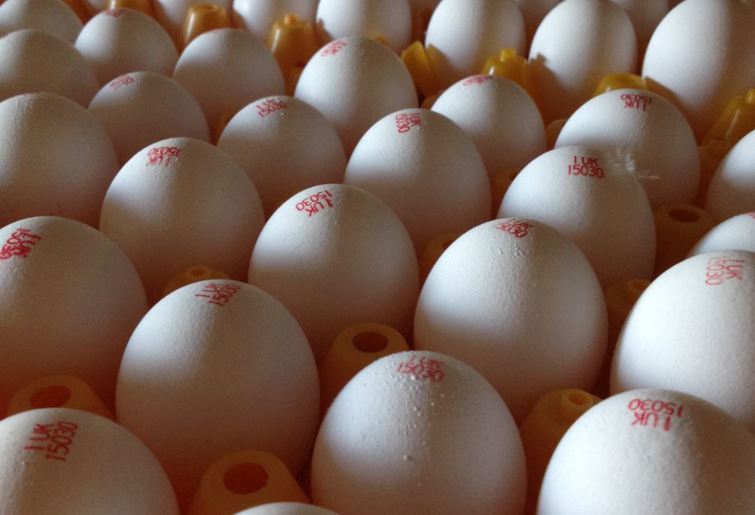 The versatility of eggs, along with Britain's lockdown baking efforts, meant Tesco saw a 30 per cent increase in demand.
Faced with record demand, Tesco worked with its long-term supplier Noble Foods, which represents over 360 farms and has worked with Tesco for over 40 years, to hatch an ingenious plan. 
Together, they were able to re-purpose an astonishing 900,000 white eggs every week that were destined for the country's now closed-down restaurants and food service. 
A cracking effort  
Completely restructuring a vast national distribution system in days was a serious challenge. 
Mark Suddaby, Category Director at Tesco, reveals minute by minute reactive decisions were behind this logistical effort to keep shelves stocked. 'My job has always involved working hand in hand with suppliers to ensure they have the right products each week, at the right volumes, in our stores,' explains Mark, who has worked for Tesco for over 20 years. 
His team is regularly in touch with the supermarket's supplier partners to understand what's happening on site and how Tesco can support them, for example by taking excess produce from them to save it going to waste. This has become more common in recent weeks as farmers who used to sell to restaurants and hospitality have found they have produce they can't distribute. 
In this case, taking that surplus stock off Noble Foods' hands also helped Tesco deal with the surge in demand for eggs it was seeing across the country. 
When COVID-19 hit and cafés and restaurants closed, many farmers had nowhere to take their produce, even though shoppers were buying more eggs than ever. 'During the pandemic we've been in constant conversation to work through challenges together, and make sure customers can get the food they need. 
'We've been working flat out to increase production which has meant lots of phone and video calls with suppliers and my team. The close relationship we have with Noble has been incredibly important. It meant we could pick up the phone and work on a way to solve problems together in real time.' 
While social distancing restrictions mean it's been harder to visit the farms in person as much as usual, Mark's team has been talking with Noble several times a week to get the extra eggs into Tesco boxes and out to customers.  
Before they could be sold in Tesco stores, the eggs had to go through a technical and agricultural sign off process to check Tesco's experts were happy they met all its usual standards, something Tesco and Noble worked on together to get the eggs on to shelves in double quick time.  White eggs usually are used by the country's restaurants, although they are exactly the same in taste and nutritional value as their brown counterparts 
As the head of a team that rears around 4.5 million chickens a year, works with 360 farms and packs over 50 million eggs per week, Jean-Paul Michalski, Company Farms Director at Noble Foods, is used to a logistical issue or two.  But even he admits the challenge presented by COVID-19 has been exceptional. 
When Covid hit and cafés and restaurants closed, many farmers had nowhere to take their produce, even though shoppers were buying more eggs than ever. 'Our white eggs were being used to supply a large global restaurant chain which unfortunately had to close its doors during the lockdown,' Jean-Paul says. 
The relationship with Tesco meant Noble was able to work quickly to stop these eggs going to waste and help fill shelves for the nation. It might have meant working all hours, but for Mark the effort was absolutely worth it. 
'I feel incredibly proud of the team at both Tesco and Noble. Between them, they have moved mountains. All that hard work and collaboration has meant we've been able to keep serving our customers and support farmers who have been hit hardest by the pandemic.' 
White vs brown  
Supermarkets have stocked primarily brown eggs since the 1970s because they became popular with shoppers back then. 
It is only a consumer preference that has developed over the last 50 years that means we are used to seeing brown eggs on our shelves 
Over time fewer and fewer white eggs appeared on shelves despite being identical to brown eggs in all but colour, and just as nutritious. 
Baking Britain 
Lockdown has been undeniably difficult, but Brits have been trying new skills and habits, or improving old ones, to pass the time. And one of the most popular is baking! 
Whether as a great activity to occupy children, or to produce an Instagram worthy #bananabread, Brits have been hitting the kitchen like never before. 
In fact, Tesco has seen sales of cake mix go up by nearly 70 per cent, and yeast up an incredible 170 per cent. 
Jean-Paul explains: 'In the 1950s and 60s white eggs were the norm. Brown eggs were introduced and quite quickly took over with consumers seeing them as being more wholesome and better for you, which isn't the case, and preference became firmly established.' 
Taking the eggs destined for restaurants not only makes sure customers have access to the food they need, it is supporting farmers hit hardest by the closure of the food service industry. 
The super-quick changes, made possible by the close relationship between Tesco and their suppliers has resulted in 150,000 six packs of white eggs hitting the shelves every week – or a total of 900,000 eggs – that would have gone to waste. 
'The white egg is supporting egg availability in Tesco and giving shoppers the chance to pick up eggs and feed their families during this difficult period and it is rewarding for us as a business to know we are helping to feed the nation,' says Jean-Paul. 'None of our standard retail customers stock white eggs so we are really grateful to Tesco for stepping in and helping us out as the white eggs would have gone to waste.' 
And customers have very quickly re-kindled their love for the white egg. 'Feedback has been overwhelmingly positive,' Mark reports. 'Once customers realise that white hens lay white eggs and brown hens lay brown eggs it's all very sensible. 
'It certainly makes no difference to the way they taste when you dunk in your soldiers! 
'We intend to continue with the initiative, so the white egg could well be here to stay.' 
Ends
You may also like