Feeding the Front Line
24 June 2020

In partnership with Mail Metro Media, we've created a series of articles to share the stories of how we've responded to the Covid-19 pandemic through our supplier partnerships, our work to support vulnerable customers, and our community initiatives.
As our front-line NHS staff lead the fight against Covid-19, one charity initiative is working hard to keep our medics going NHS workers have been right on the front lines of the coronavirus crisis, working tirelessly to save lives – often at great personal cost. Working long hours and spending time away from friends and family, thousands of doctors, nurses and hospital staff have put safeguarding the nation's health over their own.
'We were hearing that many NHS workers weren't able to access food during their 12-hour shifts, and were coming home exhausted to have only cereal and milk before another long shift the next day,' says Nigel Harris, the owner of Absolute Taste, and, along with Ron Dennis CBE, one of the brains behind the charity Salute The NHS. 'It struck a chord, and we were determined to help. We can't help the doctors and nurses treat Covid-19, but providing them with nutritious food is something that we can do.'
Salute The NHS was launched with the plan to donate one million meals to front-line NHS workers.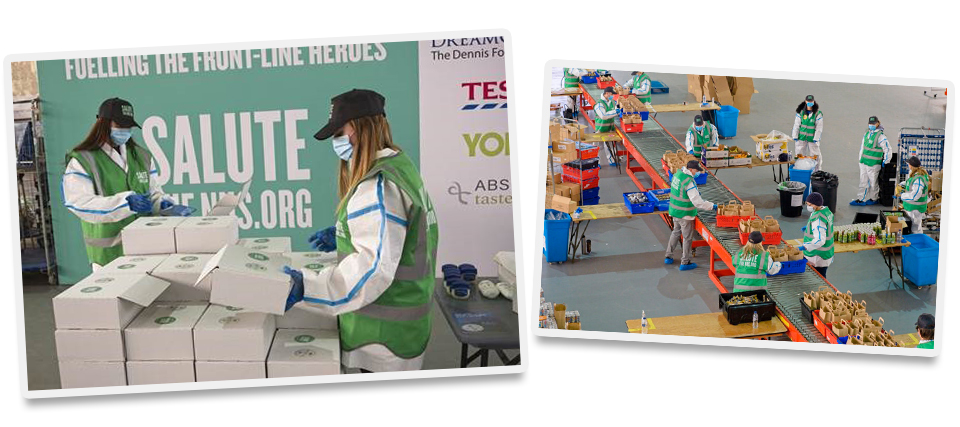 Image: Salute The NHS workers preparing food boxes.
'Many can't leave to get food during their shifts on Covid-19 wards due to the risk of cross-contamination,' Nigel says. 'Our mission is to address the problem by delivering meals directly to hospital wards and to NHS front-line workers who are self-isolating at home.' 
To get the operation rolling, Nigel and the Salute The NHS team needed help. They approached Tesco, which came on board to donate all the food for the meal boxes that go out to NHS staff across the country. 'Tesco have donated huge quantities of food and drink for our nutritious meal boxes, boost boxes and more,' says Nigel. 'I would like to say a massive thank you to everyone who has helped, and also to our front-line workers for their bravery and dedication.'
Providing the food for one million meals is no easy feat. A huge amount of work has had to happen behind the scenes to get the logistics in place. Tesco's buying teams worked closely with Salute The NHS and suppliers to work out which food items were most needed by front-line workers, such as fruit, flapjacks, nuts, healthy sandwiches and fresh soups. Together, they also made sure that those receiving the food never have the same meal twice in one week.
Jason Watts is a general manager at Tesco's distribution centre at Didcot. He has helped Tesco support many charity projects in the past, and Salute The NHS is his latest challenge. 'I feel proud to be helping front-line workers during a time like this,' says Jason. 'Being a part of something that makes a real difference to people's lives is a huge source of job satisfaction for us all.'
'We can't help the NHS treat Covid-19 patients, but we can provide nutritious food'
Getting such a big project off the ground takes organisation. So how is it done?
'Since the lockdown came in, we've hired 200 new colleagues at our Didcot distribution centre to keep up with demand,' says Jason. 'We've also created dedicated new assembly lanes and transport rotas so that we can deliver on time to support this important initiative.'
Supply chain development manager Mark Honey normally works on improving the efficiency of the supply chain at Tesco. But when it partnered with Salute The NHS, his role adapted to ensure that meal boxes were packaged and delivered to the front line in just one-and-a-half hours. 
Mark says: 'We've been agile, lending a hand to colleagues, adapting to the changes in normal customer demand and managing the new task of getting products to the front line. 'The team has done a great job in a short time frame,' he continues. 'More hospitals are signing up each week, and responding to these bigger volumes requires agility.'
It might be demanding work, but it's also been rewarding.
'We really just wanted to say thank you to the NHS for everything they are doing. My mum is an A&E nurse at Barnet Hospital, so I've heard first-hand how difficult this is for the NHS staff,' says Mark. 'Being part of a company and charity that can help out the NHS is rewarding.
'I'd like to say thank you to all the Tesco colleagues and Salute The NHS partners who have helped in this effort to get food to people on the front line.'
To find out more about how you can help, visit salutethenhs.org
Ends
You may also like