Merry meat-free Christmas! Why more people than ever are swapping the traditional turkey and trimmings for plant-based delights this festive season
20 November 2020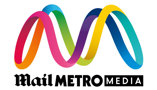 In partnership with Mail Metro Media, we're sharing stories of how Tesco and our supplier partners are tackling some of the key environmental issues associated with food production.
Supermarkets plan for Christmas all year round, developing the perfect festive treats to meet the nation's many ways of celebrating the holiday. Soon after the Boxing Day leftovers are eaten up, Tesco's team of expert chefs get to work on its festive menu for the following year.
But this year's Christmas dinner might look a little different to usual. According to Tesco, a growing number of us are thinking of switching the traditional turkey for a plant-based centrepiece after lockdown has led to changes in the way many of us are eating.
'If you think back to the first stage of lockdown,' explains Tesco's Director of Product Development, Kate Ewart, 'people were spending more time on activities like baking, and those kinds of things that make you feel good, rather than prioritising health and sustainability.'
But as the year has gone on, Tesco has seen an increase in demand for plant-based products, 'When August hit, and people started spending more time outdoors, health became more of a priority. We saw sales of fruit, veg and plant-based products increase. Many people are keen to dabble with plant-based food, to have a go and have a taste.'
According to Kantar research, sales of meat-alternatives shot up by 18.4% during lockdown, as consumers became increasingly aware of the link between the food we eat, their health and the environment. And it's not just vegans and vegetarians behind the trend. Much of the demand is from customers who still enjoy meat, but want to find ways to eat a little less.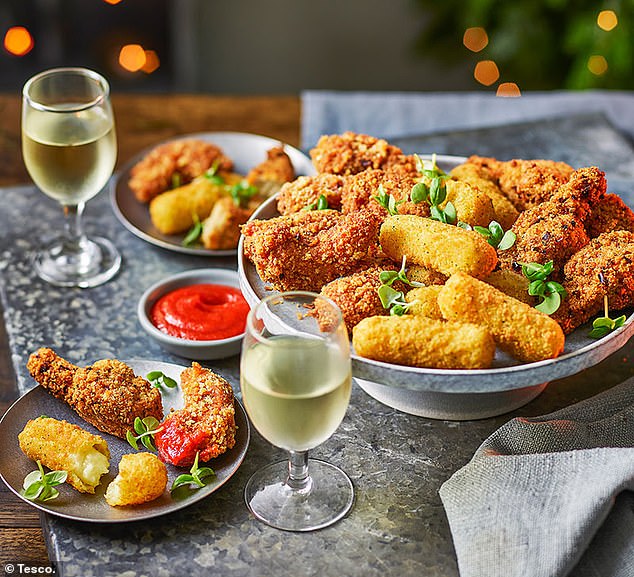 Fabulous finger food: Plant Chef No Mozzarella Sticks, Wicked Kitchen No-Chicken Drumettes and Wicked Kitchen No Prawn Firecracker Dippers, all pictured, are perfect party food.
'People choose to go plant-based for health reasons, for ethical reasons, or because of environmental considerations,' explains Derek Sarno, Tesco's Director of Plant-Based Innovation. 'Whatever the reason, we want to give people more choice.'
That's why Tesco has committed to increase the sales of plant-based meat alternatives by 300 per cent in just five years, a first for a UK supermarket. The pledge forms part of its effort, in partnership with WWF, to halve the environmental impact of the average UK shopping basket and make affordable, healthy, sustainable food accessible to everyone.
But how do you go about reimagining the most traditional meal of the year? The answer, according to Derek, is months of preparation and experimentation.
Hailing from the US, Derek has made a name for himself with his unique approach to plant-based foods, using techniques he honed over years spent working as a chef. To create the new festive plant-based ranges, he spent months with a team of development chefs from some of Tesco's long-term suppliers, including Hilton Foods. Together they experimented to find ways to perfectly replicate the taste, smell and texture of meat.
'We're offering a lot of meat and fish substitutes this Christmas as part of the festive plant-based range. That requires a lot of work to find new ingredients and textures, creating the fibres and wheat structures that can help replicate meat,' explains Sophie Harding, Innovation Director at Hilton Foods and one of the development chefs working with Tesco year round.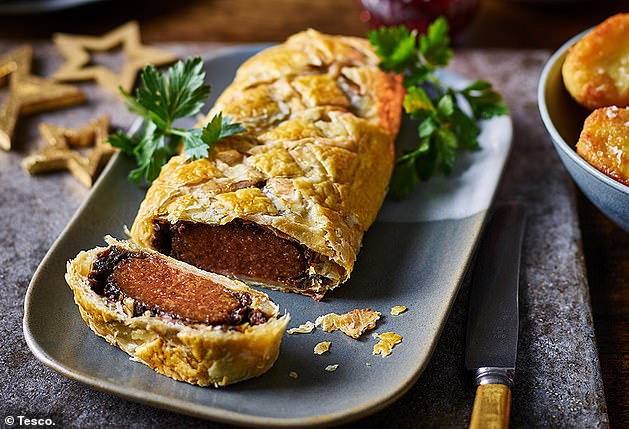 No meat, no compromise on taste: Wicked Kitchen Wellington, pictured, is a tasty offering with a centre made from pea protein and coated in a garlic porcini and chestnut mushroom duxelle.
The highlight of Tesco's plant-based offering this year is the No-Turkey Crown, which replicates the classic turkey crown, complete with a sage and onion crumb and a vegan butter-style melt, topped with a bay leaf. The team worked tirelessly behind the scenes to come up with the perfect combination of flavours and textures that matched the real thing.
'We've been developing it for two years and worked with a flavour house to create a natural, vegan turkey flavouring that gives the full sensory experience of the real thing.' Sophie says.
'For me, it has to be the product people will be most surprised by,' adds Derek. 'It all comes down to texture and using a combination of soy and wheat proteins, kind of like a seitan. It's the first one of its kind and we're really excited to be able to launch that this year.'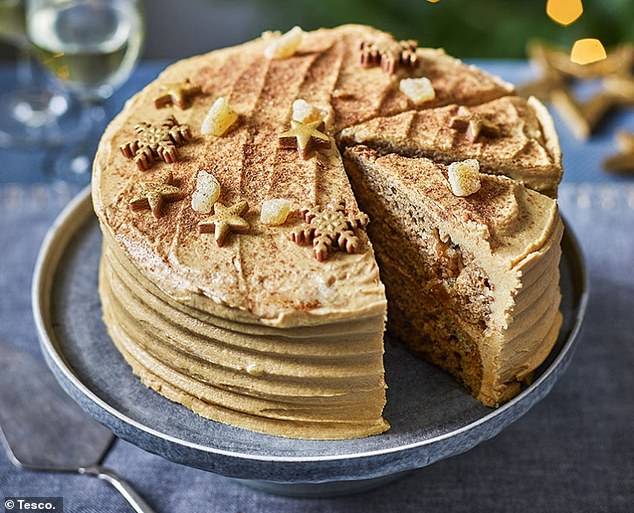 Wonderfully warming: The Wicked Kitchen Ginger Chai Cake is made with crystallised ginger pieces and a spiced chai tea soak. The hand decorated design adds to the festive feel.
The result of all that hard work is a delicious Christmas menu that provides meat- and dairy-free takes on some festive family favourites, bringing the number of plant-based products Tesco has on its shelves up to 400. 
For those not quite ready to swap out the traditional turkey, there are butter-free mince pies, Plant Chef Pigless Blankets, and BBQ Jackfruit Bon Bons made from pulled jackfruit in a crunchy seasoned crumb and smoky barbecue sauce.
Derek and his team are especially proud of their festive party food range, which includes products like the Wicked Kitchen No Prawn Firecracker Dippers, seasoned with spices inspired by the big, punchy flavours of classic Asian cuisine.
Kate is confident that the new range will prove a hit with all the family. 'I'd challenge anyone to be able to tell the difference between our Plant Chef mince pies and standard mince pies.'
'Regardless of how we spend Christmas this year, there will always be people with different dietary needs and requirements eating together within a household,' she says. 'I think that the demand for plant-based will grow over the coming months as more people will be spending time within their households, catering for every person within their home, large or small.'
Ends
You may also like