A new approach to responsible tuna sourcing at Tesco
1 March 2021
Despite improvements in fisheries management and certification, 94% of all fish stocks today remain either overfished or at a maximum sustainable level. Amongst the species most as risk is tuna, which is integral to the diets of millions of people across the globe.
As a global retailer and the UK's biggest fishmonger, we have a crucial role in promoting healthy oceans and fish stocks and preserving resources for future generations. Our ambition is to sustainably source all our wild-caught seafood and we are making progress against that target. In 2019, 79% of our UK seafood volumes were certified as sustainable by the Marine Stewardship Council (MSC). The remainder of the species are either sourced through Fisheries Improvement Projects, or Responsibly Sourced. When it comes to tuna, which presents one of the biggest challenges in terms of sustainability, we also require that fish is sourced through pole and line or FAD-free fishing methods.
However, in order to protect the marine environment for the long-term, we need a more holistic approach. That's why we have been working with WWF to develop a Seascape approach to marine sustainability, which is designed to ensure whole marine ecosystems are maintained in a healthy, productive way.
We'll begin implementing this approach in our own supply chain in 2021, starting with tuna. Working in partnership with our own brand suppliers, we will introduce new due diligence processes within our tuna supply chain, helping them to achieve its goal of 100% MSC certification across its tuna ranges by 2025. We will also continue to support Fisheries Improvement Projects (FIPs), initiatives that aim to help fisheries work towards MSC certification.
In addition, we will work with partners like WWF and our suppliers to advocate for the adoption of a Seascape approach and to encourage the wider industry to adopt the SSB40 metric to report on the health of fish stocks. The metric will allow us to know if our tuna is being sourced from an ocean in which breeding fish make up at least 40% of their original breeding populations, a key component of maintaining healthy marine ecosystems. 
Ian Rolmanis, SFP Markets Program Director UK & International Brands:
"As a long term partner to Tesco, Sustainable Fisheries Partnership welcomes Tesco's commitment to protecting marine biodiversity and reducing bycatch of endangered, threatened and protected species, and a long term goal of 100% observer coverage. Sharks, seabirds, marine mammals, and sea turtles are all ecologically important in ocean habitats, and vulnerable to capture and harm in commercial tuna fisheries. The incidental catch of these species is of great concern, and we're pleased to see Tesco's tuna transition approach addressing this."
A spokesperson for Princes said:
"Princes very much welcomes the ambitious, science based approach to Tesco's new Tuna Transition Plan. Through its seascape approach, Tesco can help to drive significant improvements in tuna fisheries management and will help to take the industry beyond the limitations of fishing gear based policies.
We look forward to working in partnership with Tesco and our own supply base to deliver its sustainable tuna requirements."
This new approach to tuna sourcing was developed together with WWF in consultation with tuna experts and suppliers, and has been specifically designed to align with and build on existing tools and guidelines already widely used by the industry. This includes the guidelines of the Global Tuna Alliance (GTA) and the NGO Tuna forum, and existing certifications from trusted bodies such as the Marine Stewardship Council (MSC).
A 10-year roadmap for the adoption of a Seascape approach to tuna sourcing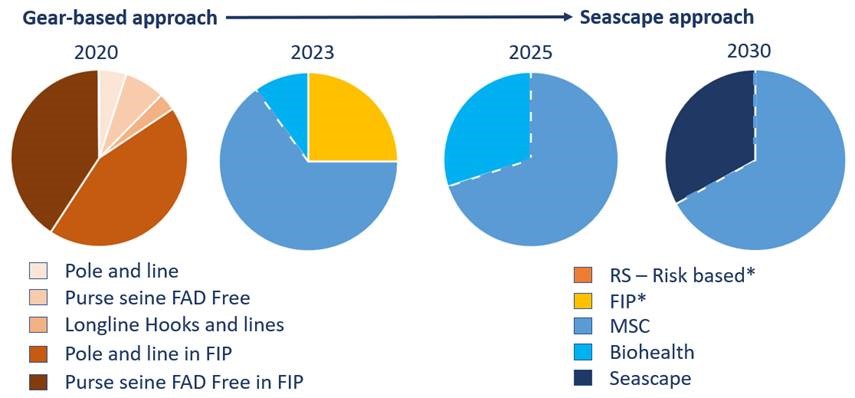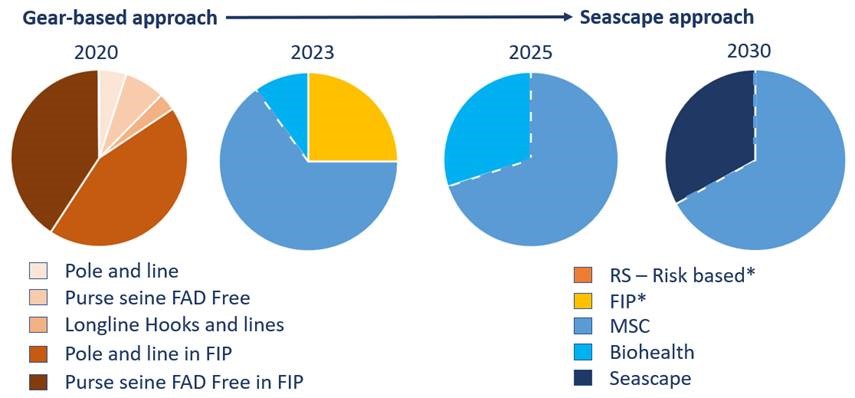 You may also like